What is dermaplaning: shaving peach fuzz off a woman's face
You have probably heard of dermaplaning before, either from a friend who's been raving about it, from an advert on social media or even directly from your dermatologist. If you have tried all of the skin care tips that you can think of and are still unhappy with the appearance of your skin, then dermaplaning could be the answer to your problems. It is a fairly new, non-invasive cosmetic treatment which promises to gently remove dead surface skin cells and vellus hairs on your face, or peach fuzz.
Dermaplaning, also known as microplaning or dermablading, is a physical exfoliation method, where your medical practitioner uses a sterile surgical scalpel to gently shave away fine unwanted hairs and your top layer of dead skin cells. These dead cells can make your facial skin look dull and feel rough, dermaplaning should rejuvenate the skin, improving its tone and texture and giving you a more youthful glow.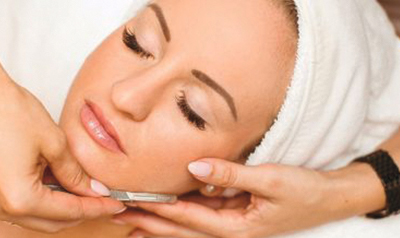 Dermaplaning before and after pics: Can dermaplaning really get rid of your excessive face peach fuzz?
Before going ahead with dermaplane treatments, you are probably wondering whether shaving your face is really an effective way of eliminating your excessive and unwanted peach fuzz. Dermaplaning can significantly improve the feel and appearance of your skin. Scraping away surface dead skin cells, impurities, dirt and peach fuzz will help to stimulate the development of fresh new skin cells.
One of the best ways to determine the effectiveness of a cosmetic treatment and to imagine the kind of results that you can achieve is to look at before and after pictures. These allow you to see treatment results achieved by real life patients. If you have a quick search online for dermaplaning before and after pictures, you will be pleasantly surprised by the dramatic improvement in skin tone and texture that patients see.
What are some of the pros and cons of shaving your face as a woman?
 As with any cosmetic procedure, there are both pros and cons to a dermaplane facial. It is important that you know what these are before deciding on your treatment so that you don't experience dermaplaning regret.
 The pros of dermaplaning are:
It is a suitable treatment for patients with all skin types. It can be carried out on patients who have sensitive skin and also those who are pregnant. This means that you can enjoy the benefits of your treatment, without worrying about using any harsh chemicals that other procedures may use, such as a chemical peel
It can be used to prepare the skin, exposing a fresh layer of cells, before other permanent treatments, for example laser hair removal. Getting dermaplaning before these treatments can improve their effectiveness and give longer lasting results
It will allow a smoother application of your normal makeup products, meaning that you will also use less of these products each time
Dermaplaning is non-invasive and has no downtime
Treatments can be repeated frequently to maintain your results
The cons of dermaplaning are:
You will need to get frequent treatments to ensure that you remain fuzz free. In comparison, laser hair removal is a once-and-done treatment
Keeping on top of your regular treatments can make dermaplaning cost quite high
It is not a suitable treatment for everybody. Patients with cystic acne should avoid dermaplaning treatment. This is because it may severely irritate your skin and lead to more acne scarring. It is also unsuitable for patients with hirsutism, a form of excessive, male-pattern hair growth, as this hair tends to be thicker and stronger than standard vellus hairs.
 Stubborn peach fuzz hair: What are the benefits of shaving your face?
So, why should you consider having dermaplaning treatment to improve the condition of your facial skin? There are in fact lots of benefits to this simple and effective procedure, including:
The effective removal of soft peach fuzz hair which can trap surface oil and dirt, blocking pores and potentially leading to breakouts
Improves the texture of your skin, making it smoother and softer
Removes dead skin cells which give your complexion a dull appearance
Can help to diminish the appearance of fine lines and wrinkles, providing an anti-aging effect
Can dramatically reduce the appearance of acne scarring
Can reduce pore size
A chemical-free facial rejuvenation treatment!
 Will your hair grow back thicker or darker after dermaplaning?
There is absolutely no need to worry about this, although it is a very common question that dermaplaning patients have. After dermaplaning treatment, your hair will grow back exactly the same thickness and colour as it was before. It will also grow back at exactly the same rate. This is because your hair follicle itself remains completely unchanged by the procedure.
Some patients do report that their hair looks a little bit darker or feels different after their treatment. The reason for this is that, with dermaplaning, your hair gets cut bluntly, straight across. These blunt ends make the hair feel more coarse or even look a bit thicker, but it is definitely not!
 What are the side effects of dermaplaning?
Dermaplaning is a very safe procedure, carrying minimal risks. Side effects that do occur are typically very mild and short lived. Side effects that you may experience include:
A slight redness of the treated skin
A slight increase in sensitivity of the treated skin
The appearance of a few whiteheads around the treated area in the days after your procedure
Scarring and infection after dermaplaning treatment are very rare. While dermaplaning can be performed by yourself at home, having your treatment performed by a reputable doctor with lots of dermaplaning experience will limit your risk of adverse effects.
 Can you dermaplane everyday?
The results of dermaplaning treatment are not permanent, but how often should you dermaplane to ensure that you maintain your results? As everybody's response to treatment is different, this is something that is best discussed with your doctor at your initial consultation appointment. Here they can develop a personalised treatment plan just for you!
Your skin is naturally resurfaced once a month, therefore most patients find that having 1 treatment per month helps them to maintain their smooth and healthy complexion. However, if needed, it is possible to have treatment more or less often than this. While you want to keep maintaining your great results, it is important to avoid over-exfoliation, this is where the expertise of your doctor is essential when deciding on treatment frequency.
Natick and Boston Metro area: Dermaplaning near me
Dr Eric Cappiello and Dr Mariam Cappiello, at Evolution MedSpa Boston, are Harvard-trained board certified doctors with vast dermaplaning experience. Give them a call today to book your initial consultation and find out how dermaplaning can benefit you. Alternatively, you can book an appointment online.