If you live in Boston and are searching for the terms 'coolsculpting doctor near me', you've come to the right place. You can go ahead and click here to make an appointment with one of the best CoolSculpting specialists in the region. Still decided, though? Have a look at our ten tips, which will help you choose the right CoolSculpting Specialist for your needs.
1. Ensure that CoolSculpting is really what you are looking for
We all know that CoolSculpting shapes your body. But the reasons why you don't have a dream body – yet – may vary. If your problem is stubborn fat, whether on your stomach, buttocks, thighs or chin – CoolSculpting is the answer. However, if your problem is saggy skin or lax muscles or if you are looking for an effective treatment for weight loss, CoolSculpting may not be the right treatment for you. 
2. Choose a board-certified physician trained in esthetic medicine
CoolSculpting is FDA approved; but since it is categorized as a medical procedure, it must always be carried out, or at the very least, supervised by a trained medical professional. A seasoned physician will be able to determine if the procedure is safe for you; it could be contraindicated in specific conditions such as cold agglutinin disease. A physician with a background in esthetic medicine is one step better, as they would be able to optimize the procedure to suit your specific body requirements.
3. Look for CoolSculpting certification for MedSpa as well as the physician
Doctors and esthetic technicians who work with CoolSculpt need to obtain the necessary training to operate the device. Similarly, the MedSpa or clinic must have adequate resources and technology to support the use of the device. Always ensure that the medical facility itself, as well as the doctors and other staff,, have received a CoolSculpting certification. This is a badge of trust that you can go ahead with your treatment.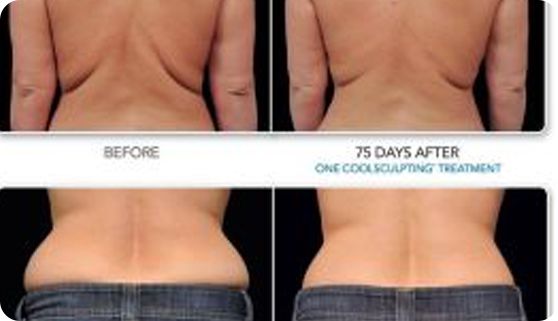 4. Check that the most up to date coolsculpting equipment is used
While the actual CoolSculpting technology has been around for almost a decade, it has been continuously improved and upgraded over the years. The most advanced equipment offers several advantages over the older devices – their applicator plates are larger, enabling them to treat a greater surface area of the body; they allow the application of two plates at once, as opposed to a single plate in the previous versions; and they can treat more areas of the body than before. The newer equipment is also believed to be better tolerated than the older versions. 
5. See if the MedSpa offers alternative body sculpting procedures
If the MedSpa has CoolSculpting as its only body-shaping solution, you may not be able to achieve optimal results. Several patients see benefits when they combine CoolSculpting with other body sculpting procedures, such as EmSculpt or Kybella. Ensure that your MedSpa offers a wide range of procedures so you can get the best package available.  
6. Look at their library of before-after pictures
Any reputed esthetic medicine clinic records its results. Most clinics also make these results available on their websites! Always look at these pictures beforehand; this will give you an idea of what to expect, and steer you away from unrealistic expectations.
7. Check out testimonials from other patients
The only real way to know how good services offered are, are through the voices of other patients. While testimonials on the clinic website are often a good indicator, the only way to get unbiased views are through third party websites such as RealSelf or Yelp.
8. Ensure that you have a comprehensive body mapping process
When you visit a CoolSculpt specialist, they should comprehensively map each area of your body to determine which areas will benefit the most from coolsculpting sessions. Benefit does not necessarily mean fact reduction – it is more about balancing the fat contours of your body to make it look esthetic. If you reduce too much body fat in one area and not enough in another, you could end up with a 'shark bite', which looks unnatural.  
9. Choose a clinic that is upfront about the number of sessions you will need
Some areas might benefit from just a single session; others might need three or more. It is always better to treat one section of the body completely, rather than choose to treat several areas at just one time – this usually ends in inefficient results. 
10. Be wary of the prices that are offered
Genuine CoolSculpt centers don't determine their own prices – prices are usually set by the CoolSculpt company themselves. So if someone offers you an obviously low price, be wary of the genuineness of their equipment. However, feel free to shop around and determine the best price at a few clinics – although this may not be a wide margin.
The Evolution MedSpa offers high quality CoolSculpt treatment at the hands of experienced trained specialists. Our CoolSculpt doctors are board certified esthetic medicine physicians who have trained at Harvard. You can book a consultation online, or by calling 617-915-2055.