Dermaplaning is becoming an ever-popular treatment choice within MedSpas, but what exactly is it? It is a method of physical exfoliation for the face. During your treatment, a sterile, surgical scalpel is used to gently shave away your top layers of skin cells and 'peach fuzz' or vellus hairs. It is also commonly referred to as 'blading' or 'microplaning'.

Some patients find themselves put off by the thought of 'shaving their face', however the procedure itself is quick and painless and the results that you can achieve are dramatic.
Most patients compare the sensation of dermaplaning to that of shaving their legs, which can be described as a cold, scraping feeling. This should cause you little or no discomfort and the entire procedure typically takes less than 30 minutes, meaning that you can squeeze it into your lunch hour.
How does dermaplaning improve the condition of your skin?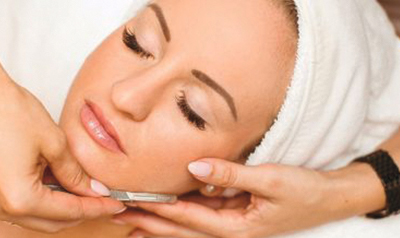 Dermaplaning has many benefits and that is why it is becoming such a popular cosmetic treatment. It can help to improve both the texture and appearance of your facial skin. With dermaplaning, you could achieve smoother, more youthful and radiant looking skin.
The dermaplaning procedure stimulates your skin's natural regeneration process. This can help to improve the appearance of many skin conditions, including hyperpigmentation, acne scarring and sun damage. As dermaplaning effectively eliminates fine vellus hairs and dead skin cells from the face, it can also help to increase the efficacy and absorption of products that you apply. This means that you will get much better results from your fancy, expensive skincare products. You will also be able to apply your makeup more flawlessly and achieve a smoother finish.
Are there any side effects of dermaplaning?
For the majority of skin types, dermaplaning is a very safe and effective treatment. If side effects do occur from treatment then they are usually minimal.
Dermaplaning is best avoided if you suffer from the following skin conditions:
Active acne
Any open facial wounds or lesions
A history of cold sores
A nickel allergy
Very sensitive skin, such as if you suffer from rosacea or keratosis pilaris
Or if you have undergone Accutane treatment within the last 6 months
If you have mildly sensitive skin then dermaplane treatment can provide you with good results. However, you may experience some mild, localised redness and swelling for a few hours after your treatment. Some patients may also develop a breakout of whiteheads in the days after treatment, this is because any buildup of oil and dead skin cells is brought up to the surface of your freshly exfoliated skin. These effects should only last for a few days.
Infection and scarring are very rare with dermaplaning treatment and are even less likely to occur if you have your treatment carried out by an experienced professional. So choose your doctor carefully!
Does dermaplaning make your hair grow back thicker?
It is a common myth that dermaplaning can cause your fine facial hair to grow back thicker and darker. However, your hair may feel different if you touch it as it is growing back. This is because it has been cut across leaving a blunt edge, but it is still the same texture as before and will grow back at the same rate.
What is the difference between microdermabrasion and dermaplaning?
This is a question asked by many patients, who often confuse the two exfoliating cosmetic treatments. Actually, dermaplaning and microdermabrasion are quite different.
The key differences are:
While dermaplaning uses a surgical scalpel to shave away your top layers of skin, microdermabrasion uses a diamond tip or fine crystals to buff away surface cells
Dermaplaning is a gentler procedure than microdermabrasion, which can cause inflammation of the skin and a pulling sensation during treatment
Microdermabrasion is best avoided by anybody with sensitive skin
Microdermabrasion does not eliminate the peach fuzz hairs which dermaplaning does
Microdermabrasion treatment takes longer
How long does it take to recover from dermaplaning?
Dermaplaning has no recovery or downtime, which is one of the reasons why it is such a popular treatment. You may experience some redness after your treatment, but this should only last for a few hours at the most.
Dermaplaning results are not permanent, lasting for between 3 weeks and a month. After this time, you will need to repeat your treatment in order to maintain your excellent results.
How much does dermaplaning cost?
Prices typically start around the $150 mark per dermaplaning treatment session. Although this will vary depending upon the area that you are in and the treatment provider that you choose. You will be provided with a full estimate for the cost of your individual treatment at your initial consultation appointment.
A lot of MedSpas offer dermaplaning combined with a chemical peel as the two treatments complement each other. As dermaplaning treatment removes your outer layer of skin cells, it enables the chemicals from a peel to work more effectively. Most MedSpas provide these treatment combinations at a reduced price, so it may be worth your while booking in these treatments together to save a few bucks!
If you are looking to rejuvenate your skin and remove stubborn peach fuzz, then dermaplaning could be the right choice for you. If you live within the Boston area then give Evolution MedSpa Boston a call today, or book your initial consultation online. Here you will be treated by one of our highly experienced board-certified doctors. They will be happy to show you some of the excellent reviews that they have received from their previous, very satisfied, patients.