Where can I get Emsculpt treatment in Boston?
If you are looking to tone and tighten your abdominal muscles or get a butt lift without resorting to surgery, then the revolutionary Emsculpt procedure from BTL Aesthetics, is a great option for you. But with so many Emsculpt providers available, how do you choose the best one for Emsculpt in Boston?
Here are some guidelines to give you an idea of what you should be thinking about when choosing your treatment provider for Emsculpt in Boston:
Look for a doctor with a strong educational background who has ideally graduated from an Ivy League establishment, such as Harvard Medical School. The best Emsculpt doctors will have board certification, demonstrating their high standards of professional competency and knowledge.
The best medical spas in Boston will offer a variety of cosmetic treatments, so it is important to make sure that your chosen physician has plenty of experience performing Emsculpt in Boston.
Have a read through testimonials and reviews from the doctors previous patients. These will give you a good idea about the standard of care that you can expect to receive. Just remember to obtain these from a trusted review site to make sure that they are unbiased.
Evolution MedSpa Boston is one of the best medical spas based in the Natick area of Boston. Our Harvard trained, board-certified doctors can help you to achieve your body goals using their extensive Emsculpt experience.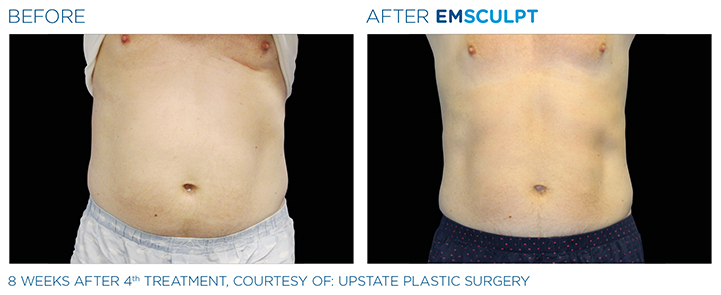 What is Emsculpt and how does it work?
Emsculpt is an FDA-approved body sculpting treatment which uses HIFEM (high intensity focused electromagnetic energy to stimulate supramaximal muscle contractions, which could not be achieved through voluntary muscle movement. These contractions trigger your muscle to rebuild itself and signal the breakdown and reabsorption of localised fat cells.
Emsculpt simultaneously builds muscle and burns fats in your bothersome areas without you having to resort to surgery. If you have been struggling to burn your belly fat or wish to restore your youthful firmness, then Emsculpt can help you to achieve your goals.
Emsculpt can be used to tone up and sculpt your stomach area and buttocks. These areas are particularly hard to shape through exercise and diet alone, particularly as we start to get older and they begin to sag! 
How long does an Emsculpt treatment take?
A single Emsculpt session will typically only take around 30 minutes. Half an hour is just a fraction of the time that you would spend hitting the gym! This means that Emsculpt is easy to fit into your busy diary and you could even schedule your appointment to slot into your lunch hour, returning back to work straight after your procedure. 
What results can I expect from Emsculpt treatment?
Understandably, one of the most common questions asked by patients considering Emsculpt is "what results can I expect from the treatment?" Patients often believe that toning up the abs and bum without working hard at the gym just sounds too good to be true! They are right – it does sound too good to be true – but it isn't, you really can achieve fantastic results through Emsculpt treatment. 
Multiple clinical studies have shown a significant increase in muscle mass and decrease in fat following Emsculpt treatment. To be more specific, this body shaping treatment can provide you with a 16% increase in muscle mass and a 19% decrease in subcutaneous abdominal fat. You could also achieve a 4.4 cm reduction in waist size and a significant boost to your metabolism. As a testament to its effectiveness, patients report a 96% satisfaction with the results that Emsculpt provides.
Is there any downtime after Emsculpt treatment?
As Emsculpt is a non-invasive procedure, it requires no downtime and you don't have to worry about pre- or post-treatment preparations. This means that you can resume your regular daily activities straight after your treatment.
Some patients report mild soreness after their Emsculpt session, similar to the feeling you have after a strenuous workout. The muscular contractions triggered by Emsculpt actually help to eliminate lactic acid buildup in your muscles. As lactic acid buildup is responsible for muscle soreness, the procedure itself prevents you from being too sore. 
How many Emsculpt sessions will I need?
A single Emsculpt session takes just 30 minutes and treats one specific area of your body. If you wish to tone up and sculpt several parts of your body, for example your buttocks as well as your abdomen, then you will require more than one Emsculpt session. The total amount of Emsculpt sessions needed varies from patient to patient. It is best to discuss your individual requirements in detail with your doctor. He or she will use their knowledge and expertise to prepare a tailored treatment plan to meet your specific goals.
To achieve optimal results, the standard protocol recommends that you receive four Emsculpt sessions over a 2 week period, scheduled 2 to 3 days apart.
Schedule an initial consultation for Emsculpt in Boston
If you are based in the Natick area of Boston, then contact our friendly and helpful staff at Evolution MedSpa today to book your initial consultation. You can either give us a call, or schedule your appointment directly online. Our Harvard Trained doctors, Dr. Eric Cappiello and Dr. Mariam Cappiello will be directly involved in all stages of your treatment and have extensive experience performing Emsculpt procedures. They have helped countless previous patients to achieve their dream body and are ready and waiting to help you.