How does Emsculpt treatment work?
If it feels that achieving a six-pack or firming up your buttocks is an unachievable goal, then fear not Emsculpt in Natick, MA can help you. You may have been hitting the gym hard lately or even trying out a new fitness regime but are still struggling to shed that stubborn belly fat – this is where Emsculpt treatment comes in.
This revolutionary treatment can simultaneously build muscle and burn unwanted fat, sculpting your ideal physique. So how exactly does Emsculpt work? Emsculpt emits high-intensity electromagnetic (HIFEM) pulses, through treatment paddles, which trigger your muscles to contract 20,000 times in 30 minutes – the equivalent of 20,000 crunches in just half an hour! These hyper contractions, which would be impossible to achieve in the gym, lead to the strengthening of your muscle fibers and an increase in muscle mass. A residual effect of these supramaximal contractions is the release of epinephrine, which signals for fat cells to be broken down.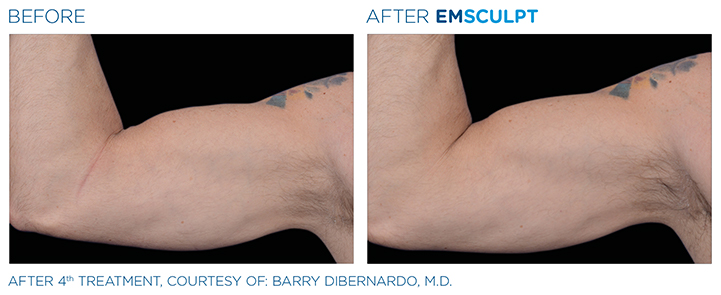 Does Emsculpt really work?
Just like the majority of patients, you are probably keen to find out if Emsculpt in Natick, MA will really tighten your abs and butt. It almost sounds too good to be true, that you can lie back and relax while your muscles automatically work out! Well, fear not, the science proves that Emsculpt is not too good to be true!
Clinical studies have proven that Emsculpt treatment, from BTL Aesthetics, can significantly reduce your fat stores and waist size and increase your muscle mass. In fact, your muscle mass could increase by 16%, fat stores decrease by 19%, and waist circumference decrease by around 1.5 inches after just 4 treatment sessions. Reassuringly, patients report an average 96% satisfaction rate with their Emsculpt treatment. 
While Emsculpt can help you on the way to achieving your physique goals, it is important to remember that the procedure can not be used as an exercise substitute. The fat cells broken down through Emsculpt are permanently removed from the body, however surrounding cells can continue to store fat and expand, leading to further unwanted bulges. This means that you must adopt and maintain a healthy lifestyle, incorporating plenty of exercise and a well-balanced diet to ensure your excellent results stick around. Emsculpt can actually help you to prepare for a new fitness regime, by strengthening your core muscles ready for your new exercise program. 
Am I a good candidate for Emsculpt treatment?
Are you wondering if you are a good candidate for Emsculpt treatment? This procedure is most suitable for patients, both male and female, who have a low BMI and normally maintain a healthy lifestyle but are struggling to shift those stubborn bulges around the stomach or buttock area.
Patients who are suffering from diastasis recti, a partial or complete separation of the abdominal muscles that typically occurs after pregnancy, are also good candidates for Emsculpt treatment.
Emsculpt treatment can often be recommended by doctors for patients with specific sports injuries. The procedure can help to restore strength in the patient's weakened muscles.
Candidates who are not suitable for Emsculpt treatment include females who are pregnant or nursing, patients with a BMI over 30 and those with a pacemaker or other metal implant as these can conduct the electromagnetic energy used during Emsculpt.
The best way to assess whether Emsculpt is right for you is to attend an initial consultation at your chosen medical spa, where you and your doctor can discuss the treatment and your suitability for it in detail.
How fast will I see Emsculpt results?
Most patients report that they can feel their Emsculpt treatment working shortly after their first session. You will probably experience some mild soreness after your procedure, similar to that felt after a strenuous workout, and this lets you know that the treatment is working.
 Visible results are usually noticed around 4-6 weeks after the last Emsculpt session. You can expect continued improvement for up to 6 months after your treatment. A lot of patients schedule repeat Emsculpt sessions every 6 months to maintain their incredible results.
How much does Emsculpt cost?
As is the case with most cosmetic treatments, Emsculpt is not cheap. However, if you are going to achieve beautifully sculpted abs and a firm butt with no effort then surely it's worth paying the price. 
The final cost of your Emsculpt treatment will depend upon the location of your chosen medical spa and the areas of your body that you are getting treated. Rather than hazarding a guess as to the cost of your treatment, it is best to discuss this with your doctor at an initial consultation appointment. Your doctor will devise a personalized treatment plan just for you and provide you an accurate cost for this.
Schedule an initial consultation with one of our leading Boston Emsculpt doctors today
If you have been following an exercise and diet plan and are still holding on to those stubborn bulges around your middle or buttocks, then give Evolution MedSpa Boston a call today to book an initial consultation. Alternatively, you can book your appointment online now. Our leading medical spa is located in the Natick area of Boston and offers Emsculpt treatment, performed by one of our top, Harvard trained and board-certified doctors.
Dr. Eric Cappiello and Dr. Mariam Cappiello can offer you the highest standard of care, with a wealth of experience and a friendly and compassionate demeanor. Have a read through the highly positive reviews and testimonials that Drs. Cappiello have received from their previous patients.