Coolsculpting finally offers us a way to get rid of stubborn fat and achieve that dream body with minimal effort – if it is done right. Without a certified coolsculpting provider, you run the risk of the treatment being ineffective, or worse, complications arising from treatment. Let us tell you about the top things you must look for when you choose a coolsculpting doctor in Boston.
Things to look for when you choose a CoolSculpting doctor 
Credentials: You should always seek treatment from a trained medical professional. While there are several esthetic technicians in day soas who may offer the same service, the FDA has mandated that CoolSculpting is a medical procedure – and mustbe overseen by a doctor.
Training: While any physician can legally perform the coolsculpting service, a physician trained in esthetic medicine will have a flair for achieving the best results. Choose a physician who is board certified in esthetic medicine, and who has received special training in the use of coolsculpting equipment.
Experience: We can't stress this enough: a doctor who has performed the same procedure literally thousands of times is more likely to get optional results, as opposed to a newbie who is just starting out. Choose a doctor who is experienced and has done the same procedure several times before.
Results: Always go to your esthetic physician's website and check out the results they post. A doctor who achieves great results will be open to sharing them online. Looking at before/after pictures also gives you a realistic picture of what to expect.
Reviews: Although all the above points are important, you will only feel comfortable if the doctor also has a great bedside manner. Reviews from former patients will give you an indication of the doctor's personality, and how comfortable you are likely to feel with them.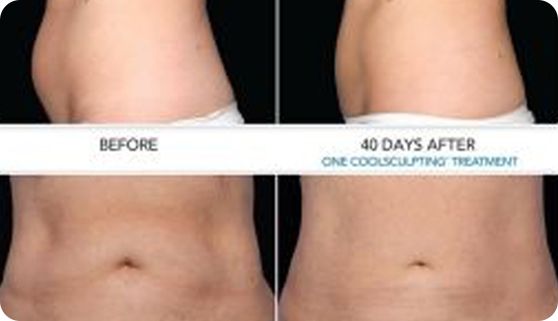 How does coolsculpting work? 
Coolsculpting essentially works by freezing away unwanted fat, through a procedure called cryolipolysis. When the body is subjected to freezing temperatures, fat freezes at a higher temperature than skin and other tissues. When the Coolsculpting device is applied to the skin, the unwanted fat cells in the treated areas crystallize and die, and are eventually removed by the body. Remember that coolsculpting only works for fat reduction. You could get rid of that extra roll of stomach fat, that double chin, or even thigh cellulite – but you will not experience significant weight loss.
What happens when I decide to visit a MedSpa for CoolSculpting? 
If you decide to visit a MedSpa to get CoolSculpting, you will probably go through the following steps: 
Initial consultation: You will visit with an esthetic medicine physician, who will ask you details about your medical history, your current health concerns and your treatment goals. While this may seem slightly tedious, all this information is relevant to the final choice of treatment. It also gives you an opportunity to ask the physician any questions, or address any concerns you may have.
Mapping and evaluation: This usually occurs at the initial consultation, if you are satisfied and decide to move forward. The physician 'maps' your entire body to assess where the stubborn areas of fat are located. You can then decide which of these areas you want to treat — each body area may require a separate treatment session. Your doctor will also let you know if there are more effective alternatives to body shaping.
Treatment process: You do not need any special preparation before this procedure; just show up! Most doctors advise a light snack beforehand so that you do not feel hungry during the process. The Coolsculpting device consists of two applicator plates, which will be used to enclose the fat roll in the area being treated. You will feel a slight sucking sensation as the plates are applied. During the procedure, you will experience a cooling, numb sensation; this is usually well tolerated by most patients. Most coolsculpting sessions last between one to two hours.During this time, you can relax, take a nap, watch a movie, or even bring in your laptop to catch up on some work.
After the procedure: Most patients do not experience any adverse effects. If at all present, they are usually limited to numbness, tingling or tenderness of the skin; this disappears within a few hours. There are no special precautions to be taken after the procedure. Results appear gradually as the fat cells are slowly cleared away; you should see the best results of treatment after about three months.
CoolSculpting is permanent, in the sense that the fat cells are killed and they cannot come back. However, this does not prevent new fat cells from forming. Therefore, you will only see optimal results if you stick to a sensible plan of diet and exercise; otherwise, you may just see new fat cells replacing the old, dead cells.
Evolution MedSpa: Offering advanced CoolSculpting treatment from experienced doctors
Evolution MedSpa, located in Natick, Boston, offers CoolSculpting treatment sessions using the most advanced equipment and resources on the market. Our in-house CoolSculpting specialist, Dr. Mary Cappiello, is a Harvard trained physician who is board certified in esthetic medicine. Her many years of experience in CoolSculpting will ensure that you receive the most optimal treatment! To schedule a consultation with Dr. Cappiello, you can book an appointment online, or call 617-915-2055.