For most of us, that perfect figure has always been a tiny bit out of reach – no matter how hard we try with diet or exercise. This is however, set to change with the evolution of a whole new range of body sculpting procedures. No doubt, you have heard of Emsculpt, the new kid on the block that promises you toned abs and a firm butt. If you are sure that this is what your body is suited for, go ahead and make an appointment with a top Emsculpt MedSpa! But if you want to sculpt your body, but are not too sure about which procedure would give you optimal results, go ahead and finish reading this article. 
Emsculpt: for perfect muscle tone and improved muscle mass. 
Emsculpt is a device that uses high-intensity, focused electromagnetic energy to trigger muscle contractions. Essentially, it helps your muscles 'exercise' passively- but at a rate and intensity that you could never achieve in the usual way. A single, 30 minute session of Emsculptat your MedSpa, for instance, is equivalent to about 20,000 situps!
Some of you may have heard of a similar procedure – cooltone. Emsculpt vs cooltone: what's the difference? Well, Cooltone uses a different technique for muscle contraction, based on magnetic muscle stimulation.
A lot of you may wonder – isn't this similar to flex belt – that famous at-home device that works in a similar way? When you look at the metrics of emsculpt vs flex belt, there is simply no comparison. The flex belt at best allows for about 150 contractions per session – and these contractions are a lot weaker.  So if your problem primarily is loose abdominal muscle or sagging buttocks that you need to firm and tone up – emsculpt is your answer.
When it is not effective: If you have a layer of fat over your muscles. Even if your muscles are well toned, you will not see visible results because this will be masked by fat. When you consider emsculpt or cooltone vs coolsculpt in such cases, you may be better off with Coolsculpt, at least as a preceding procedure.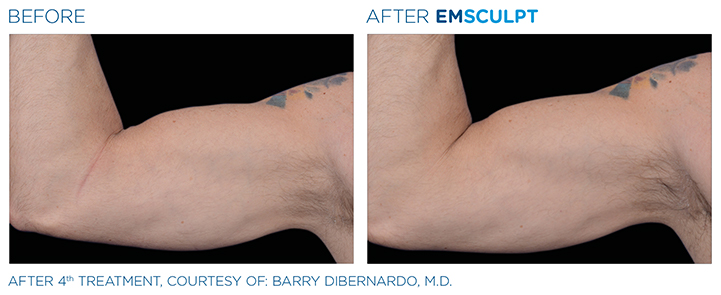 Coolsculpt: when you want to remove those pesky pockets of fat
Coolsculpt targets a different body tissue altogether – fat, not muscle. This technique makes use of a freezing technology that literally destroys fat cells by freezing them. The dead fat cells are soon washed out by the body.
This technique is ideal for those last, tiny bulges of fat that you haven't been able to get rid of – we all know that spot reduction is next to impossible by just diet and exercise. With coolsculpt, though, you can say goodbye to lower belly fat, love handles, bra bulges, and even that pouch of fat that gives you a double chin.
If you have an intolerance to cold, or skin conditions like Raynaud's disease, your cosmetic doctor may choose to avoid this procedure and offer other alternatives. Also, if your problem isn't actual fat, but more to do with sagging muscles or skin, you should look for a better option.
If your problem is sagging skin: Exilis 
Several times, we may have achieved our target weight and toned our muscles – only to find that the result is not as esthetic as we would have imagined. This is usually because the skin – which had previously been stretched under the fatty bulges – becomes loose and saggy against the areas where bulges have reduced. In these cases, you may specifically want to treat sagging skin to restore it to taut perfection.
The Exilis device combines radiofrequency and ultrasound technology to deliver controlled heating and cooling to the skin. This stimulates formation of skin connective tissue, which tightens the skin and improves laxity. 
If you are looking for significant weight loss, body sculpting may not be the answer. 
All the above body sculpting procedures are effective only when you are already within 10 pounds of your target weight, and just want some final refinement. If this isn't the case, do not worry! You can still see great results with the most magical of minimally invasive surgical procedures – liposuction. With advancements in technique, like laser and ultrasound technology,`the procedure is simpler than you might expect and you would only require a minimal recovery time. 
Make body sculpting treatment decisions after consulting with experts! 
It may be difficult to determine where exactly your problem is – skin, muscle or fat, and therefore, you may not be able to make the right decisions for esthetic treatment. This is where expert consultations come in handy! Before settling on any single treatment option, always opt to consult with an esthetic medicine specialist, who will offer you a complete body examination, and identify what your key problem areas are. Anesthetic medicine specialist will also help you work with diet and exercise plans, along with planning a customized treatment plan for you.
At Evolution MedSpa, Boston, our esthetic medicine team is ready to help you achieve that perfect body silhouette you've been waiting for! Our Harvard-trained, board-certified esthetic medicine specialists, Dr. Eric Cappiello and Dr, Mary Cappiello, can consult with you any time and work with you to achieve your goals. To schedule a consultation, you can call 617-915-2055, or fill out this form online.