What is Botox and how does it work?
Botox is an FDA-approved injectable drug containing a purified protein from the neurotoxin, botulinum toxin type A, which is produced by the bacterium Clostridium botulinum. This neurotoxin works to block certain chemical signals between nerve cells, weakening or paralyzing targeted facial muscles. By inhibiting muscle movement, Botox helps to reduce the appearance of the fine lines and wrinkles which are aging your face.
Botox is by far the most popular cosmetic treatment in the United States. Helping to significantly smooth and soften your complexion, knocking years of your facial age, it is easy to see why. Botox provides you with facial rejuvenation in a minimally invasive, non-surgical way.
As well as its cosmetic use, Botox injections can also be used to treat a range of medical conditions, including hyperhidrosis, or excessive sweating, chronic migraines, uncontrollable nerve reactions and an overactive or aggressive bladder.
A variety of trained professionals can administer Botox, including physicians, plastic surgeons, nurse injectors. It is crucial when deciding on a treatment provider, to choose one who is highly skilled and experienced. As well as vast experience, board-certified doctors have extensive knowledge of facial anatomy, which allows them to know the precise locations to inject Botox for optimum results.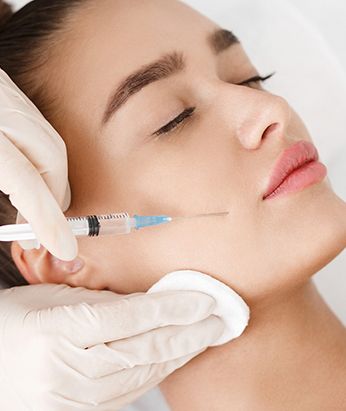 Are you a suitable candidate for Botox injections?
Are you wondering if Botox injections are right for you? Ideal candidates for Botox treatment will:
Be at least 18 years old
Have moderate to severe fine lines and wrinkles
Have wrinkles on areas of the face that are easy to treat with Botox, such as your forehead or between your eyes
Be physically healthy
Not be pregnant or breastfeeding
Have realistic expectations for their treatment
Botox injections should not be administered to patients with an existing skin infection or those with a neuromuscular condition, such as myasthenia gravis.
The best way to determine if you are suitable for Botox treatment is to schedule an initial consultation with your doctor. He or she will take detailed notes of your medical history and talk through the treatment process carefully with you.
What is the difference between Botox injections and dermal fillers?
If you have bothersome facial wrinkles you have probably been doing some research to find out which is the best non invasive cosmetic procedure to restore your youthful glow. You have probably heard about Botox and dermal fillers and are wondering what the difference is between these two anti-aging cosmetic procedures. It is important that you fully understand the key similarities and differences between these treatments before making any decisions.
Botox works to block muscle movement, minimising the appearance of wrinkles which result from your usual facial expressions, otherwise known as 'dynamic' wrinkles. On the other hand, dermal fillers add volume to thinning areas of soft tissue, filling in fine lines and wrinkles. This means that dermal filler injections are best for the treatment of 'static' wrinkles or those which result from reduced skin elasticity.
When you attend your initial consultation appointment, your doctor will perform a thorough assessment of your skin, discussing your treatment goals with you. He or she will then use their extensive knowledge and experience to determine the best option for you and develop an individual treatment plan.
Both Botox and dermal fillers offer excellent results, so whichever treatment you opt for, you can be reassured that you will look years younger! 
What areas of the face can be treated with Botox injections?
Botox injections are most commonly used for the treatment of fine lines and wrinkles on the face. So, what facial areas can benefit from Botox treatment?
Forehead
Under-eye
Frown lines that form between and above your eyebrows
Laughter lines or crow's feet that develop at the sides of your eyes
Marionette lines that stretch from the sides of your mouth towards your jawline
Chin
Jawline and neck 
What can you expect during your Botox procedure?
It is really important to find out as much as you can about a cosmetic procedure before going ahead with your treatment. Here is a quick overview of what you can expect during your Botox treatment:
Firstly, you will attend an initial consultation appointment, where your doctor will discuss your medical history with you and make sure that Botox is safe for you. This is a perfect opportunity for you to ask your doctor any questions that you may have.
Your doctor will carefully mark out the areas to be treated and apply a mild cleanser.
If you are concerned about experiencing any discomfort during your injections, your doctor may apply a numbing cream to the treatment area.
Your Botox will be injected directly into your facial muscles using a very fine needle, this means that any pain and discomfort should be minimal.
After your injections have been administered, your doctor will apply pressure and/or ice to the treated areas to minimize swelling.
Botox treatment is relatively quick, with the entire procedure usually lasting 20 minutes or less.
 What can you expect after your Botox procedure?
As Botox requires no downtime, you should be able to resume your usual daily activities straight after your treatment. Your doctor will provide you with some aftercare guidelines to follow to ensure that you get the most out of your treatment.
He or she will recommend that you:
Avoid rubbing the areas that you have had treated
Avoid lying down for around 4 hours after your Botox injections
Avoid exercise or strenuous activity for 24 hours after your Botox injections 
Botox is considered to be a very safe treatment and allergic reactions are very rare. If you do experience any side effects, these are likely to be mild and short-lived, lasting for a few days only. Common Botox side effects include bruising, redness, swelling and numbness. 
Schedule a consultation at a top Boston Medspa today
At Evolution MedSpa, a top medical spa located in Natick, Boston, your Botox injections will be carried out by our Harvard-trained and highly experienced doctors. Give us a call to book your initial consultation today, alternatively, you can book online, and find out how Botox can leave you feeling and looking incredible!