What is Botox in Boston?
If you are looking to restore your youthful glow and improve the contours of your face, then Botox is the perfect choice of cosmetic treatment for you. Botox injections have been used for over 25 years and are highly popular with patients looking to reduce the appearance of their facial fine lines and wrinkles. You have probably read quite a lot of information about Botox, as it is a hot topic with every beauty editor. In this article, our top MedSpa experts answer some of your key questions.
Botox Cosmetic injections contain the active ingredient botulinum toxin type A, which is a neurotoxin derived from the bacterium Clostridium botulinum. When the highly purified botulinum toxin is injected into the facial muscles in small doses, it temporarily blocks the transmission of signals between nerves and muscles. Relaxing the facial muscles helps to smooth out the skin above and minimize repetitive facial movement which can lead to the development of fine lines and wrinkles.
You may be considering Botox but are worried about looking fake or overdone after your treatment and are concerned that you may develop that 'frozen', expressionless look that is often associated with Botox. Well, fear not, the 'frozen', unnatural look is long gone and as long as you choose a treatment provider who has plenty of aesthetic and medical experience, then you can expect to achieve entirely natural looking and subtle results.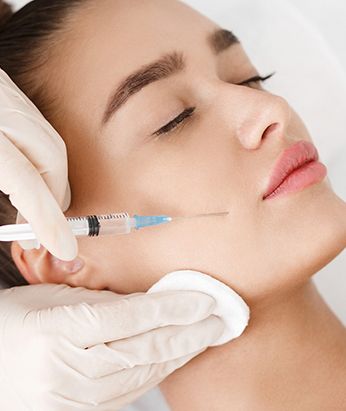 Botox vs. fillers – which is best?
When researching Botox injections, you may also have read a bit about dermal fillers and are wondering which is the best option for you. The first questions to consider when deciding on your choice of treatment are "What facial issues are you bothered by and what are you looking to improve?"
If you are worried about visible signs of aging and are keen to do something about it, then injectables are an excellent option. Both Botox and fillers can be used to reduce the appearance of wrinkles and as lip injections in Boston, but they are generally used to tackle different issues.
While Botox reduces muscle activity to smooth out wrinkles, dermal fillers work to plump out sunken and depleted areas with collagen, lifting and smoothing out the skin. When choosing between the two treatments, you must consider the type of wrinkles that you are dealing with. If you have dynamic wrinkles, those which develop due to facial movements, then Botox is the obvious choice. Dynamic wrinkles usually develop across areas of the face prone to repeated movement, for example across the forehead and around the eyes and mouth. If you are dealing with static wrinkles, which remain visible even when your face is expressionless, then dermal fillers are ideal.
Both treatments offer a highly effective way of recapturing your youthful glow. It is best to book an initial consultation with your treatment provider so that he or she can perform a thorough assessment of your skin and the issues that you face and use their extensive knowledge and professional judgement to help you to decide on the best treatment for your individual needs.
Botox can also be used to treat a range of medical conditions, such as hyperhidrosis (excessive sweating), cervical dystonia (neck spasms) and overactive bladder.
How much does Botox cost per unit?
When thinking about your treatment, have you been questioning 'how much is Botox?" Well, the cost of Botox will vary from patient to patient, depending upon the current condition of your skin, the facial area where you intend to get Botox and the doses of Botox that you will need to achieve your desired results. There will also be some variation in Botox cost depending upon your geographical location.
Cosmetic treatments do not come cheaply as they require a large amount of precision and skill. For this reason, you should not be tempted by jaw droppingly cheap deals and offers as they are most likely too good to be true. To achieve the best possible results, it is worthwhile paying a little bit extra to get your Botox performed by a highly qualified board certified doctor with extensive Botox experience.
So, exactly how much does Botox cost per unit? Well, this also varies greatly between clinics, typically, the more highly qualified the injector, the higher the Botox cost per unit. At your initial consultation, your doctor will devise a tailored treatment plan for you to address your specific needs. He or she will then be able to provide you with an accurate cost for your treatment and also discuss the available finance options with you.
Where can you get the best Botox in Boston? Comparing Evolution MedSpa, Skin Deep MedSpa Boston for Botox Boston in Newbury Street, LexRx South Boston and Boston Medical Aesthetics
If you are searching for a Botox treatment provider in the Boston area, then you will be aware that there is no shortage of providers! So, how do you choose the best one for your needs?
Some of the best Botox practices located in Boston include Evolution MedSpa, Skin Deep MedSpa, LexRx and Boston Medical Aesthetics. Whilst offering a varied selection of Botox and filler injections, the menu of cosmetic treatments available at Skin Deep MedSpa, LexRx and Boston Medical Aesthetics is less extensive than that offered at Evolution MedSpa. However, what really sets Evolution MedSpa ahead of these competitors is the fact that all cosmetic treatments are performed by one of our Harvard trained, board certified doctors. At Skin Deep MedSpa, LexRx and Boston Medical Aesthetics, treatments are generally performed by an aesthetic nurse, physician assistant or a nurse practitioner.
Cosmetic injections can be administered by a range of medical professionals, including plastic surgeons, dermatologists, primary care doctors and nurse practitioners. Some providers are even offering Botox at hair salons, hotel lobbies or your own home! Avoid these injectors at all costs as your safety is paramount.
Board-certified doctors possess extensive medical knowledge of the anatomy and physiology of the face, they have also received specialized training allowing them to perform cosmetic injectables and are able to limit and manage any side effects. A skilled doctor will be able to tell you exactly how much Botox or dermal filler you need and know precisely where to inject it to achieve your desired results.
Schedule your initial consultation for Botox in Boston today
If your forehead lines, crow's feet, frown lines or furrowed brow are getting you down then book an initial consultation at Evolution MedSpa today. You can either give the office a call, or book your appointment directly online now. Our top Boston medical spa offers high-quality treatments, delivered by one of our leading cosmetic specialists. As well as being highly qualified with many years of experience, Dr. Eric Cappiello and Dr. Mariam Cappiello are friendly and approachable, focused on providing you with the very best, patient-centered care.