How can I find the best Botox doctor in Boston? Allergan locations in Boston
As the most popular cosmetic procedure in the US, there are plenty of medical spas offering Botox treatment. With so much choice available, choosing the best Botox clinics near me in Boston for your treatment can be daunting. So, where should you start and what should you be thinking about when searching for Botox and fillers near me?
Botox, manufactured by Allergan, contains botulinum toxin, a neurotoxin which blocks signals from being transmitted between the nerves and muscles. This limits muscle moment, preventing the development of dynamic facial wrinkles and limiting the appearance of existing ones.
A range of healthcare professionals are able to administer Botox injections, these include licensed physicians, physician assistants, and nurse estheticians or cosmetic nurses. Medical professionals must have taken part in, and passed, a Botox certification course before they are qualified to administer Botox injections. A practitioner who is highly qualified and appropriately trained, preferably a board-certified doctor, will provide you with the safest care and excellent results. Make sure that you always choose a treatment provider who has completed appropriate Botox training.
At Evolution MedSpa Boston, all Botox procedures are performed by one of our board-certified, Harvard-trained cosmetic specialists. Dr. Eric Cappiello and Dr. Mariam Cappiello are both experts in administering Botox and are passionate about achieving the excellent results you deserve through their patient-centered care.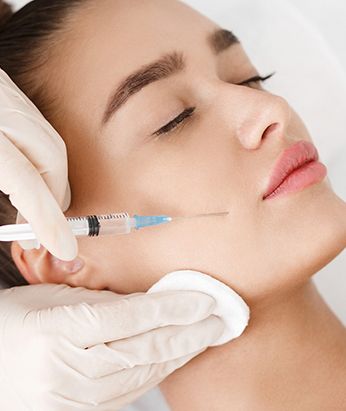 Where is the cheapest place to get Botox near me in Boston?
When deciding where to go for your Botox injections near me, you may be wondering "where is the cheapest place to get Botox near me in Boston?" While price is understandably an important consideration, Botox injections and other cosmetic procedures are costly for a very important reason. Highly qualified and experienced physicians, offering an excellent standard of care, using a high quality product, must price their services accordingly.
With cosmetic treatments, you definitely 'get what you pay for', so it is worthwhile paying extra to ensure that you receive the best possible results and minimise the risk of adverse effects. Avoid clinics offering ridiculously cheap Botox at all costs and do not let cost be your primary consideration when choosing the best Botox near me in Boston.
Azithromycin and Botox: can you get Botox while taking antibiotics?
You may be wondering if it is ok to get Botox injections while you are taking antibiotics. The short answer is yes this is fine, however there are a few things that you should consider if you are seeking Botox while taking antibiotics.
Antibiotics are not expected to have any impact on the effectiveness or duration of Botox. This is because antibiotics work specifically to tackle bacterial infections, while Botox consists of a neurotoxic protein.Similarly, there is no evidence which suggests that the botulinum toxin will impact the efficacy of your antibiotics.
There is a particular group of antibiotics, called aminoglycosides, which can affect neuromuscular transmission, increasing the strength of Botox and its effects on your muscles. For this reason, if you are taking an aminoglycoside, such as neomycin, kanamycin, streptomycin or gentamicin, you should finish the course prior to receiving your Botox injections.
To be certain about the compatibility of any prescribed drugs that you are taking with Botox, you should bring along a list of your current medications to your initial consultation with your doctor. He or she will be able to reassure you about the safety of your particular medications.
What is Brilliant Distinctions? Find a Brilliant Distinctions provider near me.
Brilliant Distinctions is a reward program established by Allergan to compensate customer loyalty by providing access to exclusive promotions and special discounts. It's free and easy to enrol, and when you do you will earn points every time you receive a qualifying cosmetic treatment or purchase a qualifying product. These points can then be redeemed on future treatments or purchases!
You can easily search online to find a medical spa which provides Brilliant Distinctions near you in Boston. Start earning today and redeem your point on Allergan treatments, such as Botox and Juvederm!
Botox to treat medical conditions: Neurologist that does Botox for migraines near me
While most people associate Botox injections with the cosmetic treatment of fine lines and wrinkles, it is a highly versatile procedure which can be used to treat a variety of medical conditions, including hyperhidrosis (excessive sweating), cervical dystonia (neck contracture), chronic migraines, eyelid twitching and overactive bladder.
Many patients, when frantically searching for a 'headache specialist near me' or 'migraine specialist near me', do not consider the benefits that Botox treatment may bring to them. Botox is actually licensed for the treatment of chronic migraine and can reduce the frequency of migraine days by up to 50% or more. It is thought that Botox may reduce symptoms by relaxing muscles around the head, thus reducing localised blood pressure and blocking nerve signals that may be involved in the transmission of migraine pain.
If you are suffering from painful and debilitating migraines, then seeking treatment from a Botox doctor near you may provide you with much-needed relief from your symptoms.
Botox side effects: Can Botox cause eye twitching and other adverse effects?
Although, when administered by an experienced medical professional, Botox injections are considered to be a safe procedure, they can lead to minor side effects including:
Pain, bruising or swelling at the injection site
Headache or flu-like symptoms
Droopy eyelids
Muscle twitching or spasms
Rarely, spread of the toxin effects to adjacent muscles may cause problems swallowing and speaking, muscle weakness, double vision or blurred vision.The risk of complications such as this is drastically limited by seeking treatment from a highly qualified, board-certified doctor who has extensive knowledge of facial anatomy.
Serious allergic reactions to Botox are rare, but can be life threatening. Symptoms of a severe allergic reaction include shortness of breath, hives and dizziness. If you experience any of these problems, any time (hours or weeks) after your botox injections then you should seek emergency medical assistance.
You should avoid having Botox injections if you plan to become pregnant or if you are currently pregnant or breastfeeding.
Schedule an initial consultation with a Botox doctor in Boston today
Schedule an initial consultation with one of our leading doctors at Evolution MedSpa Boston today and discover how Botox can restore your youthful look.