What should I consider when searching for a top Botox Specialist in Boston?
Botox, or onabotulinumtoxinA, use has rapidly expanded over the last decade, making it one of the most popular and widely used non-invasive cosmetic treatments available. If you are eager to correct the fine lines and wrinkles currently aging your face, then you are probably searching to find a top Botox specialist in Boston.
There are certain factors that you should consider when choosing a top Botox specialist for your Botox injections near me. In this article, we will discuss what you should be thinking about as you begin your search for a Botox specialist.
As Botox treatment is a skilled procedure, it should be administered by a highly qualified and trained professional. Getting you Botox injections administered by a board-certified doctor will ensure that you receive the highest standard of care and minimise the risk of any adverse effects or complications.
Check that your chosen Botox specialist has plenty of experience administering Botox injections and that he or she has a proven track record.
Have a read through reviews and testimonials from previous patients. These can give you an idea about the quality of care that you can expect from your chosen Botox specialist. Top Botox specialists will also give you access to their portfolio of Botox before and after pictures, which can give you a fantastic insight into the results that you can expect to achieve.
Make sure that your chosen Botox specialist offers you an initial consultation with them, so that you may discuss the procedure in detail and raise any questions or concerns that you may have. Your Botox specialist should not put any pressure on you to commit to treatment after your initial consultation.
It is important that you choose a Botox specialist who you feel comfortable and confident with, so that your Botox journey remains positive throughout.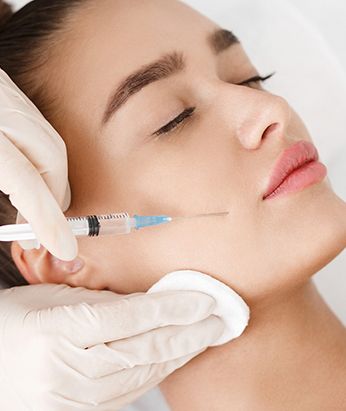 Who is a good candidate for Botox?
You may be wondering if Botox is the right choice of cosmetic treatment for you. Start by considering the following questions:
Are you at least 18 years old?
Do you have moderate to severe facial wrinkles?
Are your wrinkles located in areas where Botox would be effective, such as the forehead and around the eyes and lips?
Are you in generally good health?
Patients who are not suitable for Botox treatment include those who:
Are pregnant or breastfeeding or plan to become pregnant
Have a history of neuromuscular disease, such as multiple sclerosis, myasthenia gravis or Lambert Eaton
Have existing weakness in the target muscles
Have skin conditions around the areas to be injected
When you attend your initial consultation appointment, your Botox specialist will discuss your medical history with you in detail and determine whether you are a suitable candidate for Botox treatment. He or she will also take note of any prescribed medications, vitamins and herbal supplements that you are currently taking.
Where is the cheapest place to get the best Botox near me in Boston? Finding Allergan locations in Boston
As you begin your search for Botox and fillers near me, you are probably wondering where you can find the cheapest Botox deals. While price is obviously a consideration when planning any cosmetic procedure, it is imperative that you don't base your choice of Botox specialist solely on the cost of their treatment.
A top Botox specialist who is highly qualified and experienced will understandably charge more for their services. When seeking treatment from a leading professional, you pay a premium for safe and efficient care using a high quality product. Botox injections, manufactured by Allergan,  may seem easy to administer, but they are a specialized treatment which requires extensive knowledge of facial anatomy and physiology.
How do I find a Brilliant Distinctions® provider near me in Boston?
Allergan have established a points-based reward system, dubbed Brilliant Distinctions, which provides their loyal customers with savings, exclusive promotions and special discounts. Brilliant Distinctions is free and easy to enrol, enabling you to earn points whenever you receive a qualifying cosmetic treatment or purchase qualifying Allergan aesthetic products. The points that you earn can be redeemed on future purchases and treatments.
A quick online search will allow you to find the details of Botox clinics near me in Boston which support the Brilliant Distinctions reward scheme, allowing you to start earning points from your Botox treatment!
Non-cosmetic uses of Botox. Finding a neurologist that does Botox for migraines near me in Boston.
When you hear about Botox, you probably think about its wrinkle-easing capabilities and the treatment of an aging face. However, it is no longer just used for reducing the appearance of problematic wrinkles, Botox uses extend to the treatment of a range of medical conditions, including hyperhidrosis (excessive sweating), cervical dystonia (neck spasms), overactive bladder, lazy eye and chronic migraines.
If you suffer from migraines, you will know just how disabling the disease can be. You may have been searching to find a "headache specialist near me" or a "migraine specialist near me", but have you considered Botox? Patients suffering from debilitating migraines have been overwhelmed with the success that they have achieved through Botox treatment.
Botox injections can relax the muscles of the head and block nerve signals which are responsible for the transmission of pain associated with chronic migraines. Migraine sufferers have noticed a reduction in the frequency of migraine days by up to 50% or more.
Are there any side effects associated with Botox?
While Botox is considered to be a safe treatment and the dose of Botox administered is low, all cosmetic procedures carry the risk of side effects. If you do experience adverse effects after you receive Botox injections, they are likely to be mild and short-lived. Common side effects reported after Botox injections include:
Swelling, bruising or pain around the injection site
Flu-like symptoms or a headache
Temporary drooping or weakness of the facial muscles
Drooling
Rarely, patients may experience symptoms which indicate a spread of toxin effects to adjacent muscles, including problems swallowing and speaking, muscle weakness, double vision or blurred vision. Having your Botox performed by a highly qualified, board-certified doctor, with extensive knowledge of facial anatomy, significantly reduces the risk of complications such as these.
Serious allergic reactions have been reported, but thankfully they are very rare. If you experience symptoms of a severe allergic reaction to Botox, including shortness of breath, hives and dizziness, any time (hours or weeks) after injection, then it is imperative that you seek emergency medical assistance. 
Schedule an initial consultation with a Botox Specialist in Boston today
If you are located near to the Natick area of Boston, then contact Evolution MedSpa today to book an initial consultation. At Evolution MedSpa, your Botox injections will be carried out by one of our highly skilled, board-certified doctors. Dr. Eric Cappiello and Dr. Mariam Cappiello both have extensive experience in administering Botox injections and achieve excellent results for their many happy patients.
Give the team at Evolution MedSpa a call today, or alternatively you can book your initial consultation online right now!