What does a CoolSculpting Specialist do?
Advances in technology and techniques within the cosmetics industry means that you no longer need to rely on invasive surgical procedures, such as liposuction, to get rid of your unwanted fatty bulges. Innovative CoolSculpting treatments offer a non-surgical and non-invasive method of eliminating stubborn fat.
CoolSculpting is an FDA-cleared weight loss treatment which uses cold temperatures to freeze fat cells. Once frozen, unwanted fat cells die off and are gradually reabsorbed and eliminated via the body's lymphatic system. You are an ideal candidate for CoolSculpting treatment if you are struggling to eliminate your bothersome areas of fat through diet and exercise alone.
So, what should you expect from your CoolSculpting specialist during your treatment? Your CoolSculpting doctor will apply some gel, followed by an applicator to your treatment areas. The treatment applicator will administer both suction and controlled cooling technology to the targeted area. You may experience a mild pinching or pulling sensation during this process, but the CoolSculpting procedure typically involves minimal pain. 
Immediately after your CoolSculpting treatment, your treatment provider will massage the targeted areas to encourage the breakdown of localised fat cells. CoolSculpting treatment time can vary depending on the size of the treatment area. Typically, CoolSculpting takes around one hour and you will be able to relax and read, listen to music or watch television during your procedure.
CoolSculpting reduces stubborn fat in many areas, including:
Submental area or "double chin"
Submandibular area (under the jawline)
Back fat or "bra fat"
Thigh, abdomen and flank
Fat underneath the buttocks or "banana roll"
Upper arm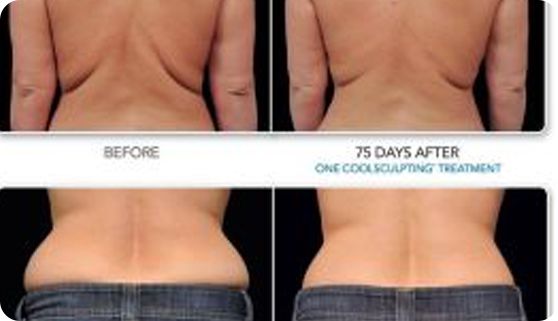 CoolSculpting doctors, CoolSculpting tech:  Who can administer CoolSculpting?
Like many patients, you may be left wondering "who can perform CoolSculpting?" Well, in order to carry out your treatment, a provider needs to be licensed and approved. Professionals who can complete CoolSculpting training to become licensed and approved include doctors, nurse practitioners and technicians. However, all CoolSculpting procedures must be performed under the supervision of a licensed physician.
When seeking treatment, make sure that your chosen CoolSculpting specialist has the appropriate CoolSculpting certification. As CoolSculpting is a technique dependent procedure, choosing a CoolSculpting specialist who is highly skilled and experienced is essential to ensure that you receive the best and safest results. CoolSculpting providers who have completed the appropriate CoolSculpting training course will be confident in operating the equipment and will ensure that your safety is paramount throughout your treatment.
Board-certified doctors have extensive knowledge of the anatomy and physiology of the body. This means that they can help you to ensure that CoolSculpting is suitable for your goals and complete your treatment effectively and safely. 
CoolSculpting in my area: Where can I get CoolSculpting in Boston?
Are you wondering where to start when searching for a reputable CoolSculpting specialist in Boston? What should you be thinking about when deciding where to get your CoolSculpting treatment?
You should choose a medical spa in Boston which has plenty of experience providing satisfied patients with successful CoolSculpting treatment. The very best MedSpas will have access to the latest technology and techniques, ensuring that you receive quality treatment.
If you live in the Natick area of Boston, you are very lucky to be near to one of the best medical spas in Boston. Evolution Medspa has a proven track record of providing exceptional CoolSculpting results. The presiding doctors at Evolution, Dr. Eric Cappiello and Dr. Mariam Cappiello are both board-certified and Harvard trained cosmetic specialists, passionate about achieving optimal results for their patients. 
Does CoolSculpting really work?
If you've watched a CoolSculpting commercial, then you are probably wondering whether this innovative treatment is too good to be true. This is a question that patients ask a lot when they are considering CoolSculpting treatment. 
The short answer is yes – CoolSculpting does really work and creates undeniable results! CoolSculpting works because it permanently reduces the amount of fat cells that you have in your problem areas. Exercise and diet, while essential for maintaining a good figure and healthy body, do not reduce the number of fat cells, they simply shrink them. 
To get a definitive answer for your question, "does CoolSculpting really work?, check out some CoolSculpting images online. This will give you a much better idea about the amazing results that you will be able to achieve with CoolSculpting treatment. 
Can you freeze fat away at home?
Like many cosmetic procedures, quality CoolSculpting treatment does not come cheap. This may have left you questioning whether you can freeze away your unwanted fat at home to save some money.
While CoolSculpting works by effectively "freezing" your fat cells, this is not something that you should attempt to do at home. A CoolSculpting specialist, having undergone extensive training, knows a lot about the physiology of fat cells. He or she will use a CoolSculpting machine to suck away a proportion of your frozen fat cells, stimulating the breakdown of all fat cells in the treated area.
DIY CoolSculpting may involve the use of ice cubes, an icy bath or other frozen materials. These simply will not do the same job as a state-of-the-art CoolSculpting machine. Instead, these DIY fat freezing attempts are likely to leave your skin frozen and not much else. This means you may be seeking medical treatment for localised tissue damage and frostbite, with no reduction in your bothersome fat.
To limit your risks and ensure that you achieve fantastic results, always seek professional treatment from a board-certified CoolSculpting specialist. 
Book an initial consultation with a CoolSculpting specialist today
Give the friendly staff at Evolution MedSpa Boston a call today to schedule your initial consultation with one of our leading board-certified doctors. Alternatively, you can book your appointment directly online. Dr. Eric Cappiello and Dr. Mariam Cappiello can help you to sculpt your body contours and boost your self-esteem.