What should you consider when choosing a CoolSculpting doctor?
Are you looking to sculpt your dream body by eliminating specific areas of unwanted fat? If so, then you are probably considering CoolSculpting treatment and wondering where to find a good CoolSculpting doctor near you in Boston. In this article, we discuss why choosing a reputable CoolSculpting doctor is important and give you some more information about this innovative fat reducing procedure.
With so many doctors now offering innovative CoolSculpting treatment, it can be difficult to decide which one to choose. As you start your search for a CoolSculpting doctor you should:
Find a CoolSculpting doctor who works for a medical spa with a good online presence. The quality of a MedSpa's online content will give you a unique insight into the quality of their work.
Read through reviews and testimonials from a CoolSculpting doctor's previous patients. Make sure you obtain these from a reliable and trusted review site to ensure that they aren't biased.
Make sure your chosen doctor has got a proven track record of providing CoolSculpting treatment with no complications.
Find a CoolSculpting doctor with a strong educational background and plenty of experience providing CoolSculpting treatment. CoolSculpting is a very technique dependent procedure so you will obtain the best results when you choose a CoolSculpting doctor who has performed the procedure many times before.
Look through before and after pictures of patients who have received CoolSculpting treatment from your chosen provider. This will give you an idea about the results that he or she can achieve.
Seek a CoolSculpting doctor who tailors treatment based on your individual needs. A top CoolSculpting doctor will have access to multiple treatment applicators which are compatible with fat cells in different treatment areas. CoolSculpting can be used to treat fat bulges in the thigh, abdomen and flank areas and the submental area (underneath the chin), as well as back fat, bra fat, under the buttocks (often referred to as banana roll) and upper arm. CoolSculpting is the only FDA-cleared non-surgical fat reduction procedure to target lax tissue with submental fat or double chin.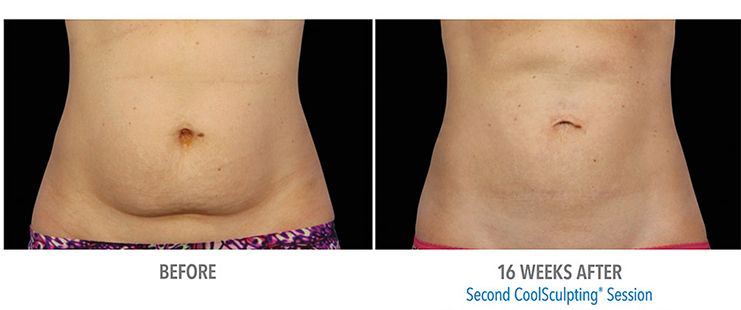 Do doctors have to perform CoolSculpting treatment?
CoolSculpting can only be performed by accredited medical professionals at accredited treatment centers. Accredited CoolSculpting providers undergo rigorous training to ensure that they are highly qualified and experienced in the procedure.
CoolSculpting must be either performed by a physician or under the direct supervision of a physician. 
Make sure you consult with a board-certified doctor to determine whether CoolSculpting is the best body sculpting treatment for you. Seeking treatment from a board-certified doctor will ensure that you achieve the best possible results. 
Am I a good candidate for CoolSculpting treatment?
An ideal candidate for CoolSculpting treatment will be at, or very close to, a healthy weight and looking to reduce specific areas of stubborn fat using a non-surgical approach. CoolSculpting is suitable for both men and women who are generally in good health.
Coolsculpting is not suitable for:
Patients who are currently pregnant, nursing or planning to become pregnant
Obese patients
Patients with paroxysmal cold hemoglobulinuria
Cryoglobulinemia
Cold agglutinin disease
Before seeking CoolSculpting treatment, it is important that you understand fully how the procedure works and the results that you can expect to achieve. CoolSculpting is not a weight loss procedure, so do not expect to see a massive difference in the numbers that you see on your scales. The goal of CoolSculpting treatment is to sculpt your body, achieving a more streamlined figure that could not be achieved through diet and exercise alone.
What are some of the common side effects of CoolSculpting?
The CoolSculpting procedure is FDA approved and considered to be very safe and effective. In fact, CoolSculpting is generally considered to be a safer alternative to traditional surgical fat reduction procedures, such as liposuction.
As with any cosmetic procedure, there is a risk of some adverse effects from CoolSculpting. Any adverse effects that you do experience following your procedure are likely to be mild, confined to the area around the treatment site and short-lived, lasting for only a few days.
Common side effects after CoolSculpting treatment include:
Firmness
Redness
Swelling
Pinching sensation
Bruising
Tingling and stinging
Skin sensitivity
Muscle cramping
Mild to moderate pain
It is also normal to experience a loss of sensation or numbness in the treated area, which may last for around a month.
Very rarely, treated fat cells may enlarge instead of being destroyed, leading to a condition known as paradoxical adipose hyperplasia (PAH). PAH causes a hardened area of localized fat.
To minimise the likelihood of experiencing side effects, it is always best to find a highly qualified and experienced, board-certified doctor to perform your CoolSculpting treatment. 
Schedule an initial consultation with a leading CoolSculpting doctor in Boston
If you are located in the Natick area of Boston, then contact Evolution MedSpa Boston today to book an initial consultation with one of our top CoolSculpting doctors. At Evolution MedSpa, all of our cosmetic procedures are performed by one of our Harvard trained, board-certified cosmetic specialist doctors. This gives you the reassurance that you are receiving the highest standard of care throughout your treatment.
Our friendly and approachable doctors, Dr. Eric Cappiello and Dr. Mariam Cappiello have extensive experience performing CoolSculpting treatment and a proven track record achieving the very best results for their highly satisfied patients.
Give Evolution MedSpa a call today to schedule your initial consultation, or alternatively you can book your appointment directly online.