What is CoolSculpting?
CoolSculpting, otherwise known as cryolipolysis, is an FDA-approved, non-invasive cosmetic treatment which eliminates unwanted body fat. Similarly to liposuction, CoolSculpting is used to target specific areas of the body where stubborn fat remains, despite your efforts at following a healthy lifestyle.
CoolSculpting is a safe and effective body sculpting treatment, which can provide you with excellent, permanent results. This innovative procedure can reduce fat in your treated areas by 20-25%.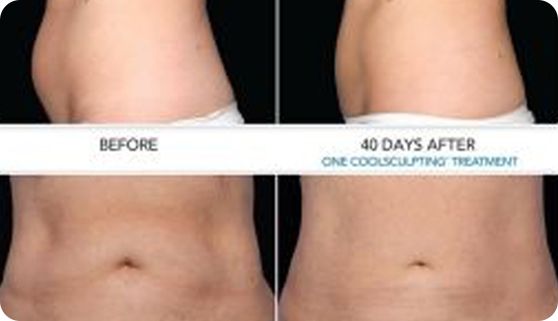 How does CoolSculpting work?
During CoolSculpting treatment, freezing temperatures are applied to the treatment area using paddle-shaped applicators, to break down unwanted fat cells. As fat freezes at a higher temperature than your surrounding tissues, the fat cells can be selectively targeted while the surrounding skin and tissue remains unaffected. After the targeted fat cells are broken down, they are eliminated via the body's natural process, leaving the body permanently.
Who is a good candidate for CoolSculpting?
If you are looking to reduce fat in specific areas of your body, but are struggling to see any results from a healthy diet and exercise alone, then you are an ideal candidate for CoolSculpting treatment.
It is important to remember that CoolSculpting is not a weight loss treatment and so, it will only be effective for patients who are at a healthy weight (within 10 to 20 lbs of their ideal weight) and maintain a healthy lifestyle. If you have small areas of fat to treat and are keen to seek a non-surgical treatment option, then CoolSculpting is the perfect choice! A good test to see whether CoolSculpting will work for you is to pinch a section of your bothersome fat. If you can pinch some fat and pull it away from your body, then you are a good candidate for CoolSculpting. This is because CoolSculpting works on the layer of fat which is underneath your skin, known as subcutaneous fat.
CoolSculpting is not suitable for patients who:
Are currently pregnant, breastfeeding or planning to become pregnant
Have the blood conditions paraoxysmal cold hemoglobinuria or cryoglobulinaemia
Are currently obese
Schedule an appointment at a top medical spa in Boston so that you can discuss your options with a highly qualified and experienced doctor and decide whether CoolSculpting in Boston can help you to achieve your body goals. 
CoolSculpting Reviews: does CoolSculpting really work?
Are you considering CoolSculpting in Boston, but find yourself pondering "does CoolSculpting work?" While a treatment which selectively reduces your troublesome areas of excess fat may seem too good to be true, CoolSculpting has a high success rate.
CoolSculpting has benefits over traditional surgical alternatives, such as liposuction. It is noninvasive and nonsurgical and has no downtime. This means that you can easily fit your CoolSculpting treatment into your busy schedule.
While CoolSculpting can help you to achieve your dream body, it should not be considered as a miracle cure. If you are expecting CoolSculpting to significantly reduce your body weight or tighten your loose skin, then you will be disappointed. CoolSculpting is designed to spot reduce unwanted fat pockets. The best results will be achieved by patients who stick to a healthy diet and incorporate exercise into their daily schedule. It may take a few CoolSculpting sessions before you achieve your optimal results, but it will be worth it! 
LipoFreeze vs. CoolSculpting: which is best?
LipoFreeze is a fat freezing treatment which you may have seen advertised at other medical spas. LipoFreeze treatment may adopt similar science to that of Zeltiq's CoolSculpting procedure, but there is much less scientific evidence to back its efficacy.
CoolSculpting is the only cryolipolysis treatment which is FDA-approved in the US. With its safety and effectiveness backed up by extensive clinical studies, it is clear that CoolSculpting in Boston should be your first choice for non-invasive fat reduction.   
How much does CoolSculpting cost?
When considering fat freezing treatment, patients often ask "how much is CoolSculpting?" The total cost of CoolSculpting depends upon a number of factors, including your treatment goals, your areas of concern and the number of sessions that you will require.
To obtain an accurate CoolSculpting price, you must schedule an initial consultation with your chosen doctor. He or she will devise a tailored treatment plan, designed to meet your specific goals and talk you through the total cost of your treatment., including any finance options that may be available to you.
What are CoolSculpting side effects?
While CoolSculpting is considered to be a safe cosmetic treatment, it is associated with some minor side effects, including:
Temporary redness, swelling and bruising around the treated area
Cramping, itching or skin sensitivity around the treated area
A sensation of fullness at the back of the throat following submental area treatment
Rare side effects include:
Hyperpigmentation of the skin
Prolonged pain and discomfort
Paradoxical adipose hyperplasia (PAH) – a hardened area of fat at the treatment site
CoolSculpting risks are much lower when you seek treatment from a highly experienced, board-certified doctor. 
Evolution MedSpa, located in Natick, provides CoolSculpting in Boston, performed by one of our leading, board-certified cosmetic specialist doctors. Dr. Eric Cappiello and Dr. Mariam Cappiello are both Harvard trained with extensive experience in providing their patients with exceptional CoolSculpting results.
Give the office a call today to schedule your initial consultation and find out if you are a suitable candidate for CoolSculpting treatment. Alternatively you can book your appointment online right away!