How much will Botox cost you? Get the insider information from a top Boston Medical Spa
If you are researching the cost of Botox to try and find the best deal possible, it can be helpful to learn a little more about the procedure first to ensure that you are getting the best possible care. Given the high costs of treatment, cheap Botox deals may seem very appealing to you at first. However, when undergoing cosmetic treatments it is definitely not worth taking a gamble on your safety and the quality of results that you will achieve. As the age-old saying goes 'you get what you pay for'.
The cost of Botox Treatment In Boston is widely variable and is dependant upon the size and location of the area that you wish to have treated. Your choice of treatment provider will also influence how much you can expect to pay. Highly qualified and experienced doctors, operating out of a well established and reputable MedSpa, will charge you more money as this is representative of the high quality treatment that you can expect from them.
At Evolution MedSpa Boston, your Botox treatment, including all of your consultations, will be carried out by one of our board-certified doctors. Drs. Cappiello have extensive knowledge and experience and a trustworthy reputation for providing exceptional results. Contact us today to book your initial consultation and find out how Botox can help you.
What is Botox and where on the face can it be used?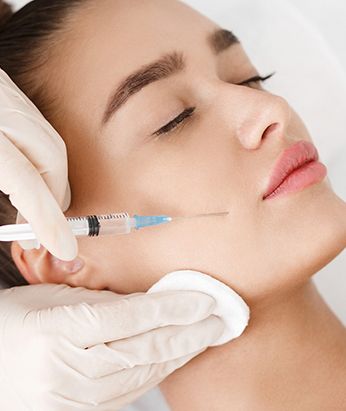 Botox is the brand name for an injectable formulation of Clostridium botulinum toxin. Once injected, this toxin works by blocking the transport of signals from your nerves to your muscles. This results in paralysis of your muscles, allowing relaxation and softening of your troublesome fine lines and wrinkles. Botox will remain localised to the area where it was injected, meaning that it will not be transported needlessly around the body.
The Botox treatment procedure is very simple. Initially your doctor will clean the injection site and may rub an anaesthetic cream over it to numb the area. They will then inject the Botox directly into specific facial muscles, depending on which areas are bothering you. The procedure will only last for a few minutes and can be carried out in the comfort of your doctor's office. There should be no downtime after your treatment, so you will be able to carry on with your normal daily routine straight after having your Botox.
Are you wondering which areas of your face can benefit from Botox treatment? Well the simple answer is – many different areas! Botox can be used on your lower face, upper face and around your eyes. In fact, it can be injected in all of the following areas:
Between your eyebrows to improve your frown lines
Your forehead
The top of your nose
Around the eyes to improve Crow's feet
Under the eyes
Around the mouth to improve lipstick lines
Your chin to correct dimpling
Your jawline and neck
Fixing your frown lines with Botox above your eyebrows
Botox can dramatically minimise the appearance of frown lines, which can be very aging and impossible to shift without cosmetic intervention. In fact, patients most often request Botox treatment to smooth and prevent frown lines as well as to minimise Crow's feet and forehead lines.
What kind of results can you expect when having Botox on your forehead lines?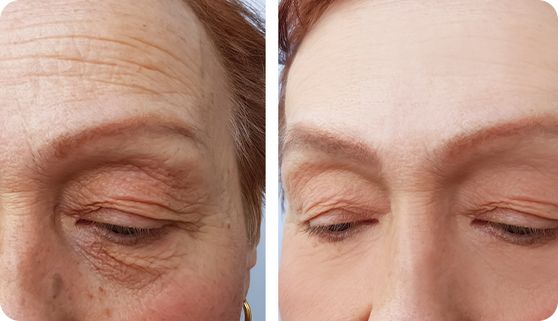 A quick online search will allow you to read through some patient reviews on Botox as well as bringing up some before and after pictures for you to compare. The majority of patients see drastic results when having Botox, particularly when treating stubborn forehead lines. However, the results that you can expect to see are only as good as your doctor, so choose wisely! Drs. Cappiello, here at Evolution MedSpa Boston, has a fantastic reputation and will be happy to showcase their many positive reviews from previous patients.
How long before Botox kicks in?
Botox will not start working straight away, as it takes time for your body to respond to the botulinum toxin. Most patients report that they start to see the effects of treatment after 3-7 days and that the full effects are visible after around 14 days.
How long does Botox last?
You can expect the results of your Botox to last for around 3-6 months. The exact time that results last for varies from patient to patient and depends upon factors, such as, how your body processes the botulinum toxin, your skin type and your gender and muscle mass.
Having regular Botox treatment may help to prolong the length of time that your results last for. This is because, as muscles are paralyzed for months at a time, they naturally become shorter and smaller.
Your doctor will be able to advise you about how often to get treatments.
Does Botox have any long-term effects?
There is limited research available regarding the long-term safety and efficacy of Botox.
Their incidence is likely to be rare, but possible long-term effects of Botox treatment include:
Muscle weakening and paralysis
Eye irritation (if injected around the eye area)
Allergic reactions
Gastrointestinal effects, such as indigestion or nausea
Having your treatment performed by a highly experienced, the board-certified doctor is important in order to minimise the risk of long-term complications.
Get in touch with Evolution MedSpa Boston today to schedule an initial consultation and find out if you are a good candidate for Botox.