How much will Dermaplaning treatment cost you? Find out the price for a glowing complexion at Boston's top Medical Spa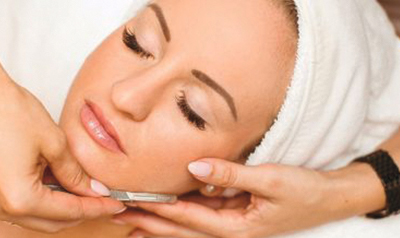 Dermaplaning, also known as dermablading, is an affordable skin exfoliation treatment with no downtime. This is why it is currently such a popular choice of cosmetic treatment within Medical Spas across the country. But how much will dermaplaning cost you and is this 'face shaving' treatment really worth the money?
This is a very commonly asked question. Obviously, it is important to find out the cost of a cosmetic treatment before committing to it, so you can be sure that you can afford it. The price of dermaplaning can vary greatly depending upon where you are located and the reputation of the Medical Spa that you choose. It may cost you more to get your treatment carried out at a reputable MedSpa, however you can be reassured that you will be getting the safest care using the most advanced technology.
If you are located within the Chestnut Hill, Massachusetts or Boston Metro area, then give Evolution MedSpa Boston a call or book an initial consultation online today. All cosmetic treatments at Evolution MedSpa Boston are doctor-led and Dr. Eric Cappiello and Dr. Mariam Cappiello are both Harvard-trained cosmetic specialists with a wealth of experience between them. In the Boston area, the price for a dermaplaning and chemical peel combination treatment typically starts at around $189.
Face shave before a face mask
One of the fantastic benefits of Dermaplaning is that it can increase the absorption and efficacy of topical skincare products. This is because it removes the layers of dead skin cells and fine peach fuzz hair at the surface of your facial skin, allowing access to the healthy layers of skin underneath. For this reason, you may choose to combine your Dermaplaning with other cosmetic treatments, such as a chemical peel so that you can achieve the best possible results. Dermaplaning will also allow your expensive face creams to go further and provide a great base for applying your makeup flawlessly.
Does Dermaplaning really work? Face shaving before and after pics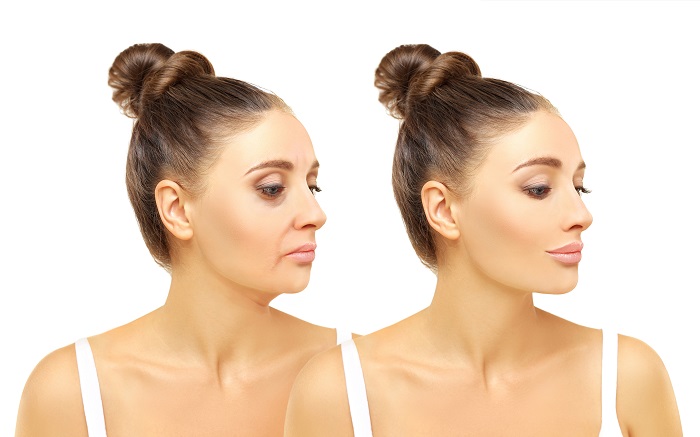 If you have never had dermaplaning treatment before, how can you be sure that it will provide you with the results that you are looking for? Well, browsing through before and after pictures of dermaplaning treatment on the internet can help you to get an idea of the kind of results that you can expect to achieve. Patient reviews online are all very positive about the dramatic results that dermaplaning can provide. Considering it is an affordable treatment choice which carries no downtime, dermaplaning seems to be an all-round winner!
Is dermaplaning good for older skin and wrinkles?
Dermaplaning can help to improve the appearance of many common skin issues and may even help with the symptoms of more chronic conditions, such as acne and hyperpigmentation. It can be carried out on any skin type to brighten your complexion and smooth out the texture of your skin. Dermaplaning can help to improve the following skin issues:
Acne scarring
Dry skin
Dull and lifeless skin
Fine lines and wrinkles
Sun-damaged skin
Blackheads
Hyperpigmentation
Dermaplaning can be particularly effective on mature skin. Aging skin can often accumulate more dead skin cells due to a decrease in cellular turnover as we age. Fine lines will also be removed after treatment, although dermaplaning can do little to improve the appearance of deeper wrinkles. Straight after your treatment, when your skin is at its most absorbent is a great time to start using skin care products containing plenty of anti-aging ingredients.
Dermaplaning vs microdermabrasion: Does microdermabrasion also remove facial hair?
Dermaplaning is not the only treatment which can provide physical exfoliation for your facial skin. Microdermabrasion is another popular option, but what is the difference between the two treatments?
What is Dermaplaning?
For dermaplaning treatment, a sterile surgical blade is used to effectively shave the face, removing the surface layer of dead skin cells and vellus hairs. This helps to increase the rate of cellular turnover and boost the production of collagen and elastin, rejuvenating the skin and eliminating fine lines and wrinkles.
You should see results straight away and will only need to repeat your treatment every 4-6 weeks to maintain your results. .
What is Microdermabrasion?
For microdermabrasion treatment, your facial skin is drawn across a tool containing fine crystals using a vacuum. This also helps to remove dead skin cells and other impurities from your skin, but unlike dermaplaning, it will not get rid of your fine facial hairs.
You will need to have around 6 microdermabrasion treatments before you see visible results.
Dermaplaning is a gentler procedure and so you should opt for this over microdermabrasion if you have sensitive skin.
How often should you get dermaplaning?
To maintain your excellent results, you should repeat your dermaplaning treatment every 4-6 weeks. This is because your skin is naturally resurfaced around every 4 weeks. You should formulate an individual treatment schedule with your doctor, based on how you react to your treatment. It is important to strike a balance between achieving smooth and rejuvenated skin and over-exfoliating.
How is dermaplaning different from shaving at home?
You may be wondering how Dermaplaning is any different from the traditional facial shaving that you do at home. Well the answer really lies in the type of blade that is used. When you receive professional Dermaplaning treatment, your doctor uses a small, but very sharp, single-use scalpel blade. This allows physical exfoliation of the skin as well as removal of facial hair. What's more, your experienced treatment provider will know exactly which areas of your face to focus on to get the best results.
To achieve a smoother, more youthful complexion, contact Evolution MedSpa Boston today to book an initial consultation. You will not be disappointed, the team pride themselves on their results-driven treatment and patient centered care.