What results can you expect from a chemical peel? Get the lowdown from the experts at Boston's best Medical Spa
Are you wondering what kind of results you can expect to achieve from a chemical peel? Well, out of all the facial treatments currently available on the market, chemical peels are actually one of the most effective.
A chemical peel can help you to unmask a fresher, smoother, flawless and more youthful complexion. It can also allow your current skincare products to work more efficiently. By removing a superficial layer of dead skin cells, a face peel can help to improve the penetration of products into the healthy layers of skin cells hiding underneath. This means that your skin will be more receptive to your usual care routine. Chemical peels can be used to improve a wide range of skin conditions, including acne and acne scars, age spots, fine lines and wrinkles and an uneven skin tone.
If you want to see some examples of the dramatic effects that you can expect to see after a chemical peel treatment, then have a quick search online for some chemical peel before and after pictures. You will almost certainly be amazed!
Professional vs. at-home chemical peels – what is the difference?

You may have heard that you can buy chemical peels to perform yourself at home and are wondering if this will work out more cost-effective for you, While an at-home peel will work out considerably cheaper and may be more convenient for you, the results that you can expect to achieve will not be half as good as those which you will get from a spa based treatment.
The main difference between a professional and a chemical peel at home is the concentration of the chemicals that are used. When having your treatment performed at a Medical Spa, under the close supervision of a board-certified doctor, much stronger concentrations of chemicals can be used and also prescription-strength topical agents can be used alongside the peel for greater efficacy.
At home chemical face peels can freshen and rejuvenate your complexion as well as helping to treat minor skin issues. However, if you have more complex issues that you are hoping to address, for example, deep wrinkles, acne scarring or dark age spots, then this will require a deeper chemical peel. Deep chemical peels are very strong and should therefore only be performed by a qualified professional.
To guarantee the best aesthetic result it would be wise to book in your chemical peel treatment at a well respected Medical Spa. At Evolution MedSpa Boston, our highly qualified and skilled, board-certified doctors have lots of experience at delivering exceptional results from their chemical peels. Contact us today, either by phone or online, to book your initial consultation and find out if a chemical peel can help you to achieve your goals.
Chemical peel facts: What is a chemical peel?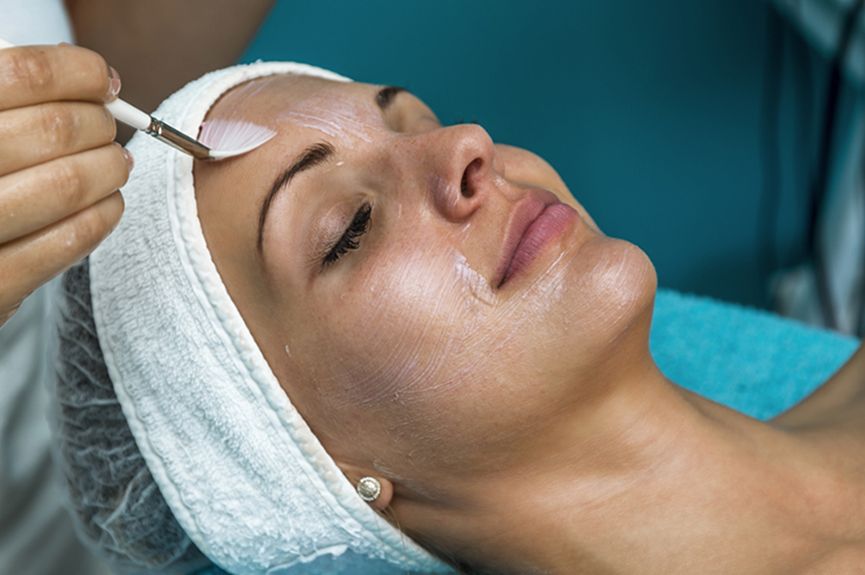 Briefly, a chemical peel uses chemicals of different strengths to remove the dead outer layers of your skin, allowing the healthy cells underneath to shine through! Chemical peels can be tailored to address each patient's specific concerns.
Three different types of chemical peels are available – superficial, medium and deep. The type of peel depends upon the strength of the chemicals used. The most suitable treatment for you will depend upon what you hope to achieve and how much downtime you can allow for. You will be able to talk through the different treatment options available to you and your suitability for them in more detail during your initial consultation.
What is the average price range of a chemical peel?
The final cost of your chemical peel will depend on a number of different factors, including the type of peel you want, where you choose to have it done, the current condition of your skin and what you are hoping to achieve.
You can discuss cost in more detail at your initial consultation, where your doctor will be able to give you an accurate price based on your tailored treatment plan.
Glycolic and salicylic peels are suited to treating different skin issues. Salicylic acid is a stronger chemical and can therefore penetrate deeper into your pores, making it more suitable for treating acne-prone skin. Glycolic acid works best as an exfoliator of the uppermost skin layers, making it most effective at brightening up a dull and flaky complexion.
Another commonly applied chemical peel is a lactic acid-based one. This is a superficial peel which can help to brighten the skin, treating uneven skin tone, hyperpigmentation and age spots.
Therefore your choice of peel will very much depend upon the skin issues that you are currently facing.
Are chemical peels painful?
A common misconception surrounding chemical peels is that they are painful. In fact, chemical peels should not hurt either during or after the procedure, although you may experience slight tightness, tingling or a change in temperature. Your treatment provider will ensure that you remain comfortable throughout your procedure.
How long does it take to recover from a chemical peel?
The recovery time following a chemical peel depends upon the strength of the treatment that you have had. It will typically take 4-7 days to recover from a superficial peel, 5-7 days from a medium peel and several weeks from a deep peel.
It is important to follow the directions given by your doctor as your skin is healing. Your doctor will give you specific instructions about how to wash and care for your skin during this time. You should also avoid sun exposure and the use of make up until your doctor gives you the all clear, this will allow your skin to have the opportunity to recover effectively. After this, you should use a good quality, SPF30+ sunscreen to protect your skin from the sun's rays.
Will you experience a burning sensation after a chemical peel?
While chemical peels are typically pain-free, everybody's skin is different, as is their perception of pain. Discomfort, redness and swelling are more common after having a deep chemical peel than with a superficial or medium peel. If you do experience any discomfort following your treatment, rest assured that this will be temporary and should be short-lived. Your doctor may prescribe a mild painkiller to help you with any discomfort that you experience.
Arrange your initial consultation today
Book your chemical peel consultation at Evolution MedSpa Boston today to find out how you can rejuvenate your complexion and treat your troublesome imperfections.