Should you get fillers or Botox in Boston?
Firstly, it is important to understand what dermal fillers do (and don't do). Fillers are used to add volume to facial areas, smoothing and enhancing and minimizing the appearance of facial lines and wrinkles. You should not confuse fillers with treatments, such as Botox, Dysport and Xeomin. These injectables are in fact wrinkle relaxers and therefore have a different mode of action to fillers. Wrinkle relaxers help to improve the appearance of dynamic wrinkles, i.e. those which are caused by repetitive facial movements, while fillers help patients with static wrinkles, or those which remain even when our facial muscles are relaxed.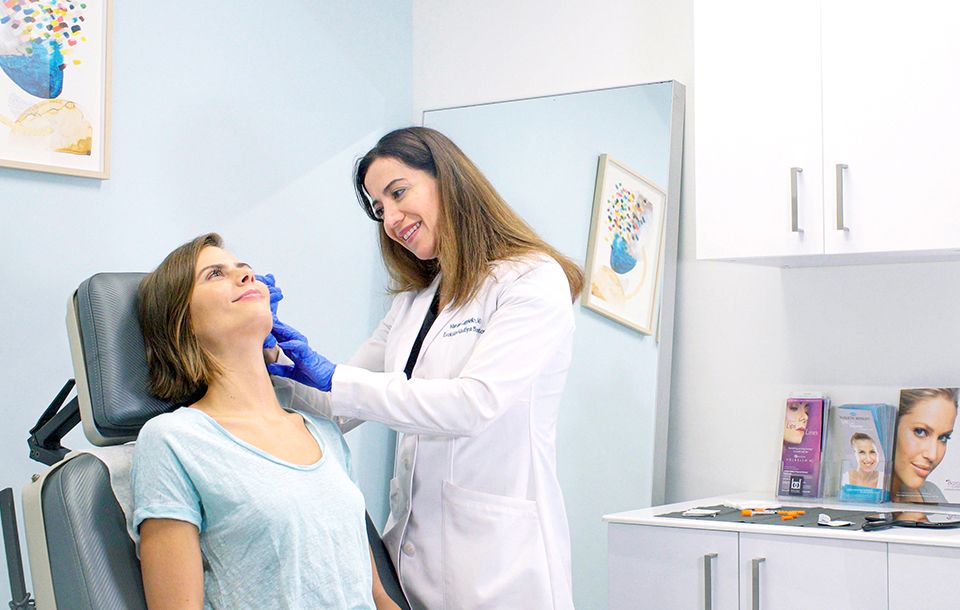 Which type of dermal filler is right for you?
Are you wondering what the difference is between Juvederm, Radiesse, Sculptra and Restylane? With so many dermal fillers on the market, how do you choose the best injection treatment for you? Well, this depends on the current condition of your skin and what you are hoping to achieve. Your choice of filler is highly individual and what works well for your friend may not necessarily work for you.
To help you out, here is a brief overview of the most popular types of dermal fillers:
Hyaluronic acid
Hyaluronic acid fillers are by far the most popular type of dermal filler and are available under various different brand names, including Juvederm and Restylane. As results may vary between each individual brand, it is important to chat with your doctor to find out which one is right for you.
Hyaluronic acid, the main ingredient of this category of fillers, is a substance produced naturally by your body, so hyaluronic acid-based fillers are considered to be very safe and carry minimal risk of side effects. Injected hyaluronic acid causes your localised tissue to store more water, resulting in increased volume and smoothing of facial wrinkles. Your body's production of hyaluronic acid can dwindle as you age, therefore fillers are very effective at combating the visible signs of aging. 
Poly-L-lactic acid
Poly-l-lactic acid is a non-toxic, biodegradable substance, which works to stimulate your body's own production of collagen. Available under the brand name Sculptra, poly-l-lactic acid injections are considered to be most effective across the bottom half of the face, for example to treat deep nasolabial folds, plump thin lips and reduce the appearance of marionette lines. 
Calcium hydroxylapatite
Calcium hydroxylapatite fillers, such as Radiesse, are typically used for facial sculpting treatments as they are longer-lasting than many of the other types of injection fillers. They may be used to increase volume across facial contours, such as the cheeks and to treat deep creases and wrinkles, such as nasolabial folds. This type of filler is not usually used on the lips. 
Polymethylmethacrylate (PMMA)
PMMA is a semi-permanent filler, commonly used under the brand name Bellafill. PMMA can be used to treat medium to deep lines and wrinkles and in particular nasolabial folds. Some patients find PMMA useful in treating deep pitted scars and for augmenting thin lips.
What's the best MedSpa in Boston for dermal fillers? Evolution MedSpa, Seaport MedSpa, LexRx South Boston,
If you are considering having injectable cosmetic aesthetics, such as dermal fillers in Boston, you are probably wondering 'what's the best Medspa for fillers in Boston?' With so many treatment providers in the Boston area, choosing the right one can be difficult. So, here we have given you a brief overview of a few popular, local choices:
Evolution MedSpa Boston
Evolution MedSpa is a leading medical spa, located in the Natick area of Boston. All procedures at Evolution are carried out by one of our highly skilled and experienced, board-certified and Harvard trained physicians. With a wealth of experience and knowledge, Dr. Eric Cappiello and Dr. Mariam Cappiello can help you to choose the most suitable dermal filler to meet your goals.
Seaport MedSpa
Seaport Medspa is Boston's premier mobile medical spa, offering cosmetic procedures in the comfort of your own home. While the appeal of having a flexible and on-demand service such as this is obvious, having your procedures carried out in a MedSpa setting offers a greater level of safety and the benefits of a relaxing spa experience.
LexRx
LexRx is a Boston aesthetics practice, operated and run by a team of board-certified nurse practitioners. LexRx offers its patients a range of neurotoxin and dermal filler treatments. 
Having your treatment performed by a highly qualified cosmetic doctor offers a high degree of reassurance about the quality and safety of your care. Unlike at Evolution MedSpa, treatments at Seaport MedSpa and LexRx are all carried out by nurse practitioner injectors.
When seeking cosmetic treatment, whether you are searching for the 'best Botox in Boston', 'apple cheek fillers', 'lip injections in Boston' or 'lip fillers in Boston', you should research potential treatment providers carefully, using trusted medical sources. 
How much do dermal fillers cost? Seeking the best Juvederm specials in Boston, MA
Like most patients, you are probably busy seeking out the best cosmetic injectable deals in Boston. However, when it comes to cosmetic injections, you definitely get what you pay for. Dermal fillers are not cheap and if they are you should be questioning why. As with any cosmetic treatment, to receive a high standard of care, you will need to fork out more money.
The cost of your treatment will depend upon the size of the facial areas that you wish to get treated and the type of fillers that you opt for. Your doctor will be able to provide you with an accurate treatment cost at your initial consultation. 
Schedule an initial consultation for fillers in Boston today
There are many fantastic medical aesthetics practices in Boston that provide dermal filler treatments, including Evolution MedSpa, Seaport MedSpa, LexRx and Boston Medical Aesthetics.
What sets Evolution MedSpa ahead of other treatment providers is the provision of physician-led care for all patients. Contact us today to book your initial consultation and find out more about fillers in Boston.