What can I expect from a dermal fillers specialist?
Dermal fillers are a popular choice at MedSpas all across the country, helping patients to achieve youthful, plump, and smooth skin. Facial fillers help to minimize the appearance of facial wrinkles and fine lines and add volume to aging and tired-looking skin.
If you are considering getting dermal fillers, then you are probably keen to find out a bit more about what to expect from your treatment. Here, we give a brief overview of what to expect when attending a consultation with a dermal fillers specialist:
Initial consultation – Before receiving your treatment, you will attend an initial consultation with your dermal fillers specialist. During this appointment, your doctor will discuss your aesthetic goals with you in detail and talk you through the procedure itself. He or she will also ask about your medical history, to ensure that dermal fillers are suitable for you. If you have any concerns or queries, you should raise them with your doctor during this initial consultation. Your fillers specialist will also take this opportunity to perform a thorough assessment of your facial features and skin and work to devise an individual treatment plan tailored to meet your specific needs.
Treatment session – When you attend your treatment session, your doctor will start by numbing the injection site with a cream. He or she will then ask you to relax your facial muscles and will start to administer your facial filler injections. Your treatment will usually take between 20 and 30 minutes.
Aftercare– When your treatment is complete, your doctor will discuss your aftercare plan with you and arrange any necessary follow-up appointments. He or she will discuss the longevity of your treatment and the requirement for maintenance appointments with you. Your doctor will be there for you after your treatment should you have any concerns or further questions.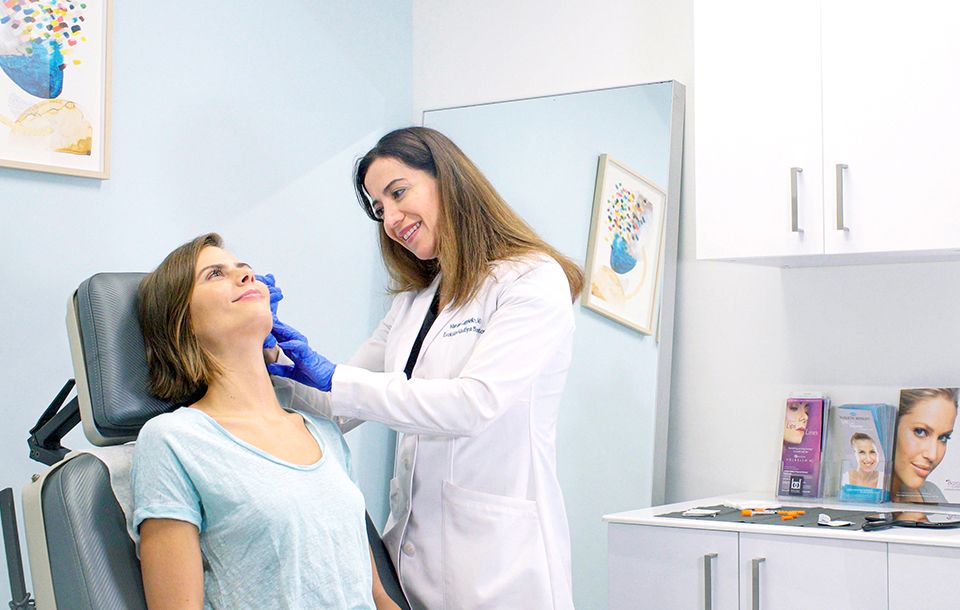 What are the different types of dermal fillers?
When it comes to dermal filler injections, there are many options available. Here, we will discuss the four main types of facial fillers:
Hyaluronic acid– fillers containing hyaluronic acid, such as Juvederm and Restylane products, are by far the most popular. Hyaluronic acid is a substance that naturally occurs in the body and retains moisture within cells, helping to restore plumpness and volume. Hyaluronic acid-based fillers are suitable for any skin type, making them a perfect choice if you have acne-prone or sensitive skin. As hyaluronic acid is a naturally occurring substance, fillers of this type are unlikely to cause any significant side effects.
Poly-L-Lactic acid (PLLA)– PLLA is a biodegradable and biocompatible synthetic substance that helps to stimulate your body's production of collagen.  Unlike hyaluronic acid fillers which provide instant results, PLLA fillers, such as Sculptra Aesthetic,  produce results gradually over several months and these results can last for up to 2 years.
Polymethylmethacrylate (PMMA)– PMMA is a biocompatible, synthetic substance that acts as a semi-permanent filler. PMMA remains beneath the skin indefinitely, in the form of a small ball, and can be used to improve the appearance of pitted scars, medium to deep wrinkles and folds and furrows. Bellafill is an example of an FDA-approved PMMA filler.
Calcium Hydroxylapatite (CaHA)– CaHA fillers, such as Radiesse, are very well-studied and used extensively to treat moderate to severe facial lines and lost facial volume as a result of aging. CaHA naturally occurs within our bones and helps to stimulate natural collagen production.
Whatever type of dermal filler you opt for, it is imperative that you always receive high-quality, brand-name, and FDA-approved fillers and that these are administered by a highly skilled and experienced physician. A board-certified doctor has extensive knowledge of facial anatomy, ensuring that they inject fillers precisely to achieve maximal results and minimize the risk of adverse effects. 
What issues can dermal fillers address?
Dermal fillers can address a variety of skincare issues, including:
Fine lines and wrinkles
Loss of facial volume
Nasolabial folds
Marionette lines
Frown lines
Crow's feet
Asymmetry of facial features
Pitted or depressed acne scars 
If you are unsure whether dermal fillers can help to address your specific skin problem, then you should discuss this with your doctor during your initial consultation.
Do dermal fillers hurt?
One of the most common questions that patients have when considering fillers is "do facial fillers hurt?" Dermal filler treatments are not generally painful and will at most cause some slight discomfort whilst the filler is injected into your face, although this should feel no different from any other injection. The amount of discomfort that you feel may vary depending upon the area of your face that is being treated. Filler injections around the sensitive lip and nose area are often the most uncomfortable but your doctor can use a topical anesthetic cream to minimize any discomfort. 
Schedule an initial consultation with a dermal fillers specialist in Boston today
If you are located in the Natick area of Boston, then contact Evolution MedSpa Boston today to schedule an initial consultation with one of our dermal fillers specialists. Our physicians are board-certified and Harvard-trained and passionate about providing their patients with comprehensive care. Dr. Eric Cappiello and Dr. Mariam Cappiello provide physician-led care, ensuring that they are there for you throughout your whole treatment journey.